Two Easy Ways To Start Meditating!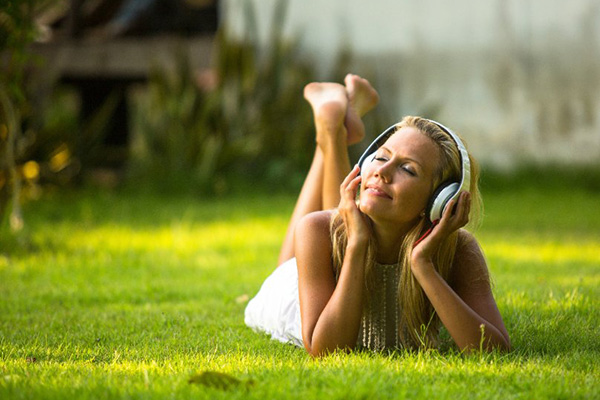 Meditation is the go-to spiritual practice for millions of people all over the world. Not only does it offer incredible benefits for clarity of mind and overall well-being, it is also a powerful self-care tool to help us navigate our lives for our highest good.
But, for newbies getting started with a meditation practice can be challenging at first. I often hear people say, "I can't meditate, I fall asleep every time," or "Oh, I tried meditating, but I got too distracted, because I can't properly clear my mind."
If this sounds like you, please know that many beginners struggle with the notion that in order to 'properly' meditate, one must sit motionless, eyes closed, and clear your mind of all thoughts, and that an inability to do so means that they've failed to meditate, or that meditation is 'not for them.'
The truth is meditation is called a 'practice' because it really does take practice to develop and master. But that does not mean it has to be complicated or difficult. Anyone can learn to meditate. To develop your meditation skills more easily, I suggest you begin with a meditation routine in one of two ways: guided meditation, or nature meditation.
Guided Meditation
We have ease of access to guided meditations these days due to convenient advances in digital technology. Gone are the days of having to attend a meditation class in person, or struggling with audio cassette tapes! These days high quality guided meditations can be instantly downloaded or streamed from various websites, apps, and social media platforms. All you need is your smartphone, and a pair of earphones or a headset.
I recommend listening to them first to find one that truly resonates with you. My previous blog Manifesting Meditations For Beginners is a good example of beginner meditation.
Meditation is a process of lightening up, of trusting the basic goodness of what we have and who we are, and of realizing that any wisdom that exists, exists in what we already have ~ Pema Chodron
If you choose to get started using guided meditations, I recommend finding those with a focus on visualization. This gives your mind something to do while you are moving through the meditation. You may still have wayward thoughts come into your mind, and that's okay. Simply stay with your meditation guide and use your imagination to create rich visualizations. This will help keep your mind from following those unwanted trails of thought.
Remember also that meditation does not have to take up a lot of time! When you're first getting started, trying to meditate for long periods of time can be very discouraging. Start with only a few minutes at first and allow your practice to evolve naturally.
Nature Meditation
Nature meditation is one of my favorite forms of spiritual practice. It helps me realign with the energy flow of the Universe to become more calm, centered and grounded. It also requires one to spend some quality time in nature, which is always good for the soul.
If where you live makes it possible for you, then head out for a leisurely walk in the woods, mountains, the beach, or even the desert. If you live in a city visit the nearest park, or sit outside on your balcony or even the roof of your building.
Take your time and pay attention to the fauna and flora around you. Listen to the wind, smell the breeze, feel the warm sunshine. Involve all your senses. Breathe in the fresh air and feel it revitalizing your mind, body, and soul. Immerse yourself wholeheartedly in the natural environment and be fully present with each step you take. As you focus the magic and miracles of nature, you will find yourself less bothered by those nagging thoughts.
Touch your inner space, which is nothingness, as silent and empty as the sky; it is your inner sky. Once you settle down in your inner sky, you have come home, and a great maturity arises in your actions, in your behavior ~ Osho
Now, taking a walk in the local park may not seem like a meditation at all, but it is indeed a method to get your brain used to being present. As you become more adept at staying in the present moment, clearing your mind for more 'proper' meditation will soon become much easier.
No matter what approach you choose with your meditation practice, it is important to make it your own. It needs to comfortably fit your lifestyle and should be something you look forward to every day, instead of it feeling like a chore. Finding the right style of meditation is therefore vital in order to make it a fun, uplifting experience.
Also, experimenting with various methods of meditation over time will greatly enrich your practice and keep things fresh and interesting. The next time you feel inspired to meditate, remember that there are many different ways to do so. Ask both your body and your mind what kind of meditation feels right in that moment, and follow your intuitive inner guidance.

About The Author: Seraphim

Sarah is a natural Clairvoyant, Clairaudient and Empath whose practice has been built largely by word-of-mouth. As a child her abilities came to the fore through precognitive dreams and messages she received. Her connection with Spirit was never more personal than the visit she received from her mother who passed, in which she conveyed the moving message that she loved her. Not long after her death she discovered her mom's Tarot deck, which launched Sarah on her journey and life-calling to explore a vast array of her gifts, one of them Eye-Gazing, a psychic tool she developed herself! Sarah continues to receive steady guidance and messages directly from Spirit Guides and Angels, and has maintained a steady and successful private practice in Canada, since 1995. Very active in her spiritual community, she's often called upon to lead local events, including group meditations. The practice of meditation, she confides, has changed her life in profound ways. Sarah has developed The Sacred Art of Creation, leading empowered women's circles that facilitate self-healing, manifestation and alignment with one's higher self. If you'd like a reading with a compassionate reader who can both hear and convey direct messages from Spirit Guides and Angels, you can find Sarah at PsychicAccess.com.