An Unusual Spirit Visitation From Grandma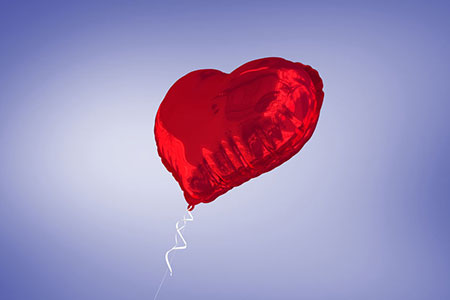 I have a very vivid memory from when I was a little girl of my grandma teaching me how to pray the rosary. I didn't really remember much of the prayer at that age, but as I grew older I made an effort to learn it by heart and do it correctly.
It has since become an essential component of my spiritual practice and has helped me to manifest many miracles in my life. In fact, one of the promises of praying the rosary is to receive miracles.
When grandma died, I made it my goal to properly learn the rosary. I prayed it every night and asked for her to visit me from the other side. I wished for us to communicate while I was awake and fully conscious, instead of in a dream. And that is exactly happened.
Recently, I was thinking of my grandma and I got down on my knees to make another special request for her to come visit me. While I was meditating, a helium balloon I still have as a keepsake from Valentine's Day 2020, began moving along the ceiling into my general space.
I knew that this had to be grandma's doing because there weren't any windows open and there was no draft. The heating was also not turned on or anything like that.
I then said out loud, "Grandma if it is you moving the balloon, is there anything you would like to tell me? Please communicate with me telepathically. Give me a sign, move the balloon towards me. Something, anything!" The heart-shaped balloon almost instantly started to make its way down to me. Lower and lower it came until it was hovering right in front of my face.
Then the balloon started moving towards the door. I stood up and followed it. It went out into the kitchen, then around the corner and into the living room. Then it hovered over my altar. I have an altar where I keep pictures of my ancestors. After grandma passed, I also placed a picture of her on it.
Once we believe that there could be daily miracles, we start to find them everywhere. It may appear as magic but not to those who understand how the hidden levels of reality work. One thing to keep in mind is that you are surrounded by miracles waiting to happen if only you start believing in them ~ Christina Rasmussen
The heart balloon came to a halt directly above of the altar. I also have battery-operated candle on my altar that I sometimes use when I pray or meditate. Having lots of cats in the house, I use battery operated candles as a safety measure.
The candle suddenly flickered on! I was stunned. How is that even impossible, I thought. I picked it up and turned it over, but the switch was not set to the on or off position, but right in the middle. I must have not switched it off properly when I last used it. How unusual that it flickered back on at that very exact moment!
I then felt a very loving, comforting energy around me, almost like a hug. "Thank you, grandma, for visiting me," I said. I put my arms around the balloon and softly hugged it. "I love you grandma," I whispered. Grandma came to visit me again. I just know it was her.

About The Author: Moon Goddess

Moon Goddess is a third generation empathic healer and seer. She started to give healing readings to people more than 20 years ago. She has always been interested and studied all things metaphysical from a young age. Being hypersensitive she can feel and see things before they happen. Utilizing the Tarot, and with the help of her Guides, she is a source of support for many people all over the world. After he passed over, her grandfather kept his promise and came back to say goodbye and gave her the most amazing experience. Moon knows there truly is a Heaven, and it is wonderful! Sharing her experience has helped many people after they have lost someone, or anyone experiencing some form of grief. Get a reading with Moon Goddess now at PsychicAccess.com.


This site uses Akismet to reduce spam. Learn how your comment data is processed.