There Is Magic In Sending Yourself Flowers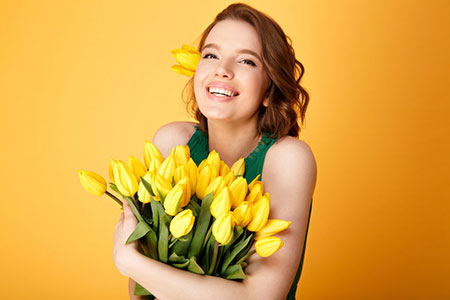 I recently had a client who called in for a psychic reading, who told me that she had recently sent a bouquet of flowers to herself, and had it delivered to her at work.
At first I thought it odd, but then, after having some time to think about it, I realized what a brilliant idea it actually was. Such a simple, yet powerful act of self-love. How often do we do nice things for ourselves in this way?
We are often so consumed with other people's attitude or behavior toward us, or seeking the love and approval of another, that we forget to love ourselves first. For once when we truly love ourselves, we can receive so much more of what we're looking for from others, and we are also able to love others more, in a way that they too deserve.
My client who sent flowers to herself also told me that she found it oddly synchronistic that the very first bouquet she spotted, on the first floral website she visited, contained two flower varieties that were highly significant to her. These flowers represented happy moments she has shared with the man she loved, and also held for her a secret, intuitive message that she considered a sign.
It made me think of the basic principle of the Law of Attraction. The energy we put out, is what we ultimately get back. My client was not only sending love to herself with these flowers, she was also working a little bit of magical alchemy without even realizing it!
Don't rely on someone else for your happiness and self-worth. Only you can be responsible for that. If you can't love and respect yourself – no one else will be able to make that happen ~ Stacey Charter
You see, the man she loves has yet to take it to the next level and make their relationship formal. My client accepts that there is a time and place for everything. In every reading, my Tarot cards always show them together, and happily married in the long-term. But there is no need for her to not be happy and joyful in the meantime. Sending flowers to herself brings an element of joy and excitement to her, which raises her energy vibration, and brings them one step closer. We can only attract what we resonate with. Like attracts like, and love attracts love!
When we invite more love and abundance into our daily life, and open up our ability to receive love, the Universe responds with more love and abundance. Whatever our vibration is, the Universe will match that. You could be in the worst situation, and completely down and out, but if you raise your energy vibration, the most magical experiences will occur in the most mundane moments.
One time, I was on an airport bus, traveling for business. The bus was taking us from one terminal to the next. When I had stepped onto the bus, the faces of the other passengers generally looked miserable and depressed.
I, on the other hand, had just finished a phone call with my spiritual mentor, and was still feeling the magnitude of his presence. The only way I can describe the feeling is that it like a vast, spaciousness within, that goes on forever, and that anything and everything is welcome in this space without any preference.
A healthy self-love means we have no compulsion to justify to ourselves or others why we take vacations, why we sleep late, why we buy new shoes, why we spoil ourselves from time to time. We feel comfortable doing things which add quality and beauty to life ~ Andrew Matthews
A gentleman in the front of the bus, sitting near me, asked me where I was traveling to. We struck up a conversation, and soon others on the bus joined in. Before I knew it, we were all chatting, smiling and laughing, including the bus driver!
Magic can happen anywhere, and through a myriad of ways. Next time you want to create some magic in your life, do something different, like sending yourself a bouquet of flowers. You may be surprised how the Universe responds to your gesture of self-love.

About The Author: Isadora

Known as The Psychic's Psychic, since 1998, Isadora has read for thousands all over the world, her impressive list including clients from the Obama administration, Fortune 500 CEO's and notable names in Hollywood. Her detailed (Gemini) accuracy is nothing short of astounding, with her ability to see people at the Soul Level and clearly answer questions on a wide range of subjects, from relationship matters, business decisions, to past lives, etc.—anything that requires clear answers and pin-point insight. She has the ability to identify hidden patterns that run beneath your current situation, providing you with information to positively change your future. If you'd like a reading with this compassionate, straight forward, laser-accurate and dedicated Psychic, you can find Isadora at PsychicAccess.com.