How To Read Angel Cards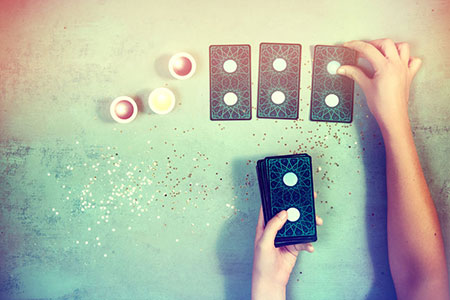 I love reading angel cards and consider them as one of my most trusted tools for giving precise and professional forecasts. While I have been a professional psychic for more than a decade, the beauty of oracle cards is that no specialized training, talent, skills or experience is required to begin using them effectively.
You don't have to be a professional diviner or gifted psychic to use oracle cards in your personal spiritual practice. With a deck of cards anyone connect with the angelic or spirit realm as soon as they feel ready to do so. However, to begin reading angel cards as a part of your spiritual practice, you may want to consider the following guidelines to get the most out of your reading experience.
Choose Your Cards Wisely
There are many places you can buy angel cards both online and offline. Wherever you decide to purchase them from, ask yourself whether or not you feel drawn to a particular pack. By doing so, you will be allowing the spiritual realm to guide you, intuitively, to the best divination tool for you.
Connect With Your Cards
Once you have purchased your angel cards, take a look at each one and shuffle them, gently, to get a 'feel' of what they are saying to you. Most cards come with a full set of instructions.  However, should an angel card suggest something different to you personally, than what the guidelines state, then always go with your intuition first, as this is how spirit will guide you.
It's as if your angel cards become the springboard to help your mind reach where your heart already lies ~ Kyle Gray
Prepare Your Reading Space
Before you do your your first reading, cover the table you will be using with a pretty scarf or cloth that reflects your personality. Your table covering doesn't need to be expensive, but one that creates the right atmosphere when you are doing readings.
Decorate your table, but not in a lavish or over the top kind of way. A few crystals and a small vase of flowers are always a nice addition to a reading table, as are incense and a candle.  If you wish to make things a little more exciting, you could also add a figurine such as an angel or animal or your choice.
Start With Basic Spreads
To begin with, I would suggest you keep it simple, and a basic three-card spread is always a great place to start. The three cards represent the past, the present and the future.
Shuffle the cards first and then select one at a time, positioning the first one, which represents the past, closest to you, which should reflect what has happened to either the person you are giving the reading to or your own set of circumstances.
The second card you select needs to be placed in the middle and this should represent where the person who is having the reading is currently at in their lives. Finally, the third card which is placed furthest away from you should reflect the outcome.
A cool daily reading, that can shed some light on the day ahead, is the simple two-card spread. Shuffle the cards and, guided by your intuition, place one card face down on your reading table. The second card should also be placed face down, on top of, but crossing the first card. The first card drawn should answer your question and the second one offer additional guidance on how to achieve what you are hoping to succeed with or lead you to ways and means of finding new answers.
There are many ways to pick individual cards from a deck for a reading, but homing in on the method that works best for you is essential for your confidence in the cards ~ Tanya Carroll Richardson
And for a more in-depth reading, try a four-card spread. Shuffle your angel cards, while allowing yourself to be guided by your gut instincts. When your gut says yes, place four cards in the shape of a square on your reading table. The first card represents your love life, the second your family life, the third your professional life, and the fourth your financial life. Ask the question in your mind, turn the card, and there is your answer.
Finally, don't forget to thank your angels for their assistance during the reading and blow out the candle, if you have used one. Pack away your table or, if you have the room, leave it where it is, but remember the importance of keeping it both dust-free and uncluttered at all times. You can, however, leave the deck of cards on your reading table, so that when either yourself or a guest needs an answer to something, you can randomly pick a card for that answer. It is rather fun and empowering!
Store Your Cards Correctly
Whether you choose angel cards, the Tarot, or some other brand of oracle cards, you must store them away properly after use. I store my angel cards in wooden boxes, as this helps them to remain protected and secure for when I want to use them again.  I have several decks of cards stored away, as this allows me to adapt to the right tools that match my mood at the time.
It is, however, not necessary to wrap your cards in handspun silk, or treat them like Dresden china, as some people suggest. You must just be comfortable with the place and manner in which you store your cards. Doing so should help you to feel that they are safe and of real value to you, and I am sure you would not feel this way if you were to merely toss them into a dusty old box or plastic bag at the back of your closet. Your relationship with your cards is significant, as this can have an impact on how well you read them.
On a final note, it can be a little challenging, to begin with when you start doing angel card readings. However, there is no real wrong or right way of reading them. Indeed, all that the Angelic Realm and Universe ask is that your intentions are for the highest good. This being the case, you will have the best teachers and guides to help you do truly great oracle card readings.

About The Author: Lucinda

Lucinda is a highly trained Intuitive and Empath, living in a beautiful village in North Yorkshire, England. She possesses the rare gift of understanding a client's personal pain and has been through many challenges, herself, which has only made her stronger! It is both her calling and her happiness to help those in need. And whenever she needs a little help herself, her Guides are always there to assist in her development and provide clear interpretations for her clients. Prediction has always been a great tool she could count on to accurately foretell events, but Lucinda also draws on her expertise with Dream Interpretation, Numerology, Angel Cards, Law of Attraction and Life Coaching to provide full and detailed solutions to any problem. A member of AMORC and Beyond Freedom Evolution, she provides inspiration, education and personal support for spiritual development. If you'd like answers or want to attract your desires, you can find Lucinda at PsychicAccess.com.


This site uses Akismet to reduce spam. Learn how your comment data is processed.