The World Needs You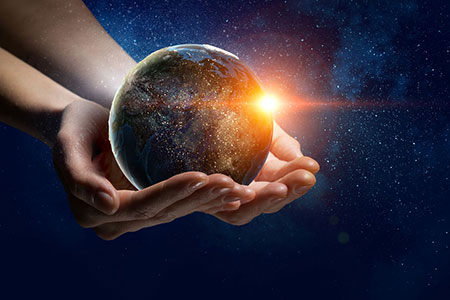 The concept of spiritual awakening is central to most New Age teachings and modern metaphysical belief systems. This is because we can only create effective change in this world once we become aware, or conscious, of the world around us.
So, what exactly does it mean to 'wake up' in spiritual terms? Too many people believe that being spiritually 'awake' or 'conscious' is simply observing the challenges that are all around us. However, this is not the full implication of being aware from a spiritual perspective.
It is true that we must be able to see things more clearly and honestly, to be able to make changes for the better. But, being awake from a spiritual perspective is much more about personal responsibility than it is about just recognizing the challenges that exist on the planet.
Author and philosopher, Howard Thurman, said, "Don't ask what the world needs. Ask what makes you come alive and go do it. Because what the world needs is people that have come alive." He makes a very valid point.
To be spiritually-minded is to recognize that we are the creators of our world and our own reality experiences. Every thought we think is being returned to us as experience. It is true that there are tremendous challenges facing our world today, but it is equally true that we are either contributing to those challenges, or dissolving those challenges through our own personal patterns.
Our thoughts and beliefs contribute to the war, famine, dis-eases, and other challenges the world is facing. Our thoughts can also contribute to global peace, abundance, and prosperity.
Only those who have learned the power of sincere and selfless contribution experience life's deepest joy: true fulfilment ~ Tony Robbins

True spiritual enlightenment is first and foremost about taking responsibility for our own lives, and cultivating spiritual values in our own experiences. Thurman talks about "coming alive." What does it mean to feel alive? Most people feel alive when they are in a state of love, joy, and serenity. When they live a life that expresses these qualities. Therefore, nearly every spiritual tradition focuses on increasing the capacity to experience love, joy, and peace.
Albert Einstein said, "We can't solve problems using the same kind of thinking we used when we created them." This profound statement reflects nearly all spiritual and metaphysical teachings.
If you want to live in a world where there is love, you must first be willing to embody love. If you want to live in a joyful world, you must first cultivate joy. If you want peace on Earth, you must become peaceful. This means you must let go of resentment, bitterness, anger, frustration, and other qualities that are contributing to the challenges we are currently facing on the planet.
Ask yourself what makes you come alive? Then go for it. The world is waiting for you.

About The Author: Cosmic Coach

Cosmic Coach (James) has mastered many techniques in his psychic practice to connect with the unique heart center of each of his clients. He is a Reiki Master of many traditions, who is adept at crystal healing, card readings, and delivering detailed messages from Angels and Guides. A Christian Minister, a teacher and an Energy Guide, living in Michigan, James is always expanding the base of his knowledge to broaden his reach and serve as many clients as possible. To experience a unique reading personally designed for you, you can find Cosmic Coach at PsychicAccess.com.