How To Create Your Own Angel Altar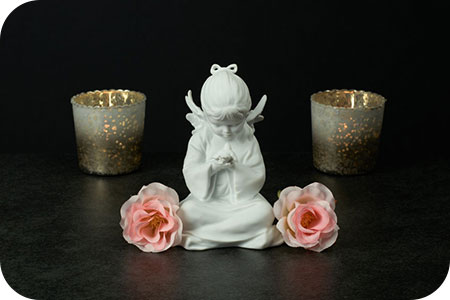 Over the last few months, I have written in depth about the angelic realm and all the wonders it bestows upon humanity. In today's blog, however, I wish to share some ideas on how to construct your own angel altar at home, so that you can connect with the angels and archangels whenever you need their spiritual guidance and assistance in your life.
First, find a sacred space for your altar somewhere in your home or office. This can just be a small, private area in your bedroom where you know you will not be disturbed and will be at peace with yourself.
Select or purchase a base for your altar. It can be as simple as a small box or coffee table that is sturdy enough to hold whatever you choose to place upon it. Then drape a cloth over your altar. Anything that is large enough to cover the base will suffice.
Next, you can adorn your altar by placing appropriate objects on it, such as candles, crystals, angelic figures, plants, flowers, stones, and the like. You may use anything that is personally meaningful to you, or to which your are intuitively drawn.
To glamorize your display, you could add golden or silver colored objects, or even spray-paint an artifact of your choice to really add that personal touch. Silver, gold, black, white and mirrored rectangular trays are particularly on trend at the moment for decorating holy altars. However, if your budget is limited, simply paint or decorate an old tray, before placing it on your altar. Check around your home for other unused items that you could paint spray and add to your altar to compliment it.
Having one place in your home or living space that is dedicated to the presence of your angels is essential if you are to build up a sacred connection with these energetic guides ~ Kari Samuels
Place the larger objects towards the back of your altar, and the smaller ones in the front. Furthermore, do try to keep things as uncluttered as possible, and ensure that your altar is kept clean and fresh at all times, with frequent dusting and replacing flowers when they are no longer fresh.
Arrange a pile of spiritual books (larger ones at the bottom and the smaller ones on top) on one side of your altar, ensuring that the top book is attractively covered. Also, try to go, if you can, with the theme of your room, so that the books you choose match the color scheme of your room, or you could add some accessories to the room itself, such as candles, pillows, plants and flowers that match the books on the table.  Most angel books tend to come in hues of lilac, pink and blue, all of which would be perfect for your display.
Scented candles in jars are perfect for altars. Be it gold, white, silver or purple, the color ideally needs to 'pop.'  If you are creatively inclined, you can always make your own candle holders by pasting angelic pictures to the outside of a small drinking glass, for example, to which you have added some glitter for extra sparkle.
Pay attention to every detail. If you want to add a sense of height to your altar, then why not add some flowers in a tall vase or a potted plant? Should you choose the flowers, then it would need to be born in mind that the broader the base of the vessel that holds them, the greater the stability it will provide. Some clean pebbles and shells placed at the bottom of your vase does not only look attractive, but can also considerably help to stop your vase from tipping over. Clear vases on an altar are ideal as they match any color, but whatever shade of vase you choose, do make sure it matches the other colors on your display.
Angel altars help you bond with angels because having a visual reminder of angels in your home will keep angels on your mind ~ Tanya Carroll Richardson
Don't forget the finishing touches. A lovely little angel box or bowl placed on your tray would provide the perfect finishing touch for your altar. Here you could hold your angel cards or anything else you feel the need to have to hand when you are in your sacred space.
Now, it gets really exciting as your altar is becoming ready for use!  I suggest that you begin using your angel altar with a prayer to the angels. Here's one for your consideration.
Light a candle and recite the following:
I invite the following Archangels into my life and my home;
Archangel Michael (blue ray) to grant me determination and courage through challenging times;
Archangel Jophiel (yellow ray) to grant me understanding and wisdom;
Archangel Camael (pink ray) to help me attract love into my home and my life;
Archangel Gabriel (white ray) to bring balance and purity into my world;
Archangel Raphael (green ray) to help me attract abundance and healing into my life and the lives of my fellow man;
Archangel Uriel (gold and ruby ray) to help me gain and maintain peace within my family environment so that I can take that peace out into the world and spread it all around;
Archangel Tsadkiel (purple ray) to help me turn any negative thoughts I may have into positive ones.
At this given point, you may start to feel the presence of the angels, but whether you do or not, and you more than likely should, it is imperative that you send them gratitude for being a big part of your life in the form of a closing prayer.
Dear Angels of Almighty God, I thank you for coming into my home this day and for the help and assistance I have no doubt you shall send me in the future; as well as the personal blessings you send me, I also pray that you send help and support to my loved ones so that they, in turn, along with myself, can also help their fellow man and bring some love, light and healing into the world.
Amen.

About The Author: Lucinda

Lucinda is a highly trained Intuitive and Empath, living in a beautiful village in North Yorkshire, England. She possesses the rare gift of understanding a client's personal pain and has been through many challenges, herself, which has only made her stronger! It is both her calling and her happiness to help those in need. And whenever she needs a little help herself, her Guides are always there to assist in her development and provide clear interpretations for her clients. Prediction has always been a great tool she could count on to accurately foretell events, but Lucinda also draws on her expertise with Dream Interpretation, Numerology, Angel Cards, Law of Attraction and Life Coaching to provide full and detailed solutions to any problem. A member of AMORC and Beyond Freedom Evolution, she provides inspiration, education and personal support for spiritual development. If you'd like answers or want to attract your desires, you can find Lucinda at PsychicAccess.com.


This site uses Akismet to reduce spam. Learn how your comment data is processed.