Aligning With Your Circadian Rhythm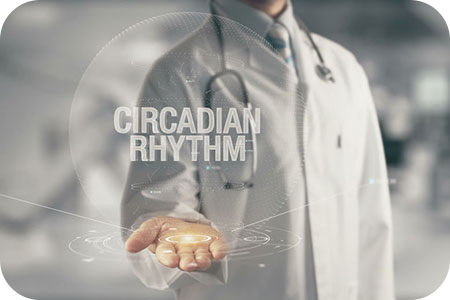 The circadian rhythm is 24-hour 'internal clock' that governs physical, mental, and behavioral changes in humans, animals, plants and even micro-organisms. I have known for many years that the circadian rhythm was an important aspect of our well-being and that it had to do with our mood and sleep cycles, but recently I discovered some new information that caused me to sit up and take notice.
A renewed interest in the biological process of circadian rhythms appears to to be trending these days, and reportedly it has a much more profound impact on our bodies and our health than merely affecting our sleep patterns. Much of this may be due to the 2017 Nobel Prize in Physiology or Medicine being awarded jointly to Jeffrey C. Hall, Michael Rosbash and Michael W. Young for their work on the molecular mechanisms controlling the circadian rhythm. Their research into what controls circadian rhythms is enlightening.
Their research discovered a gene that controls the normal daily biological rhythms. This gene encodes a protein that accumulates in the cells at night and then degrades during the day. The cells inside our bodies therefore contain a self-sustaining clock that regulates functions such as behavior, hormone levels, sleep body temperature and metabolism. Thanks in part to their discoveries, scientists and doctors now know these day-and-night cycles keep creatures alive by regulating our alertness, sleep patterns, blood pressure, hormones, body temperature, and when we eat.
Circadian medicine is just beginning, and it can unlock the inner workings of our bodies that have mystified scientists for centuries ~ Marcy Cuttler
Circadian rhythms are essentially daily cycles of biological activity based on a 24-hour period and influenced by variations in the environment, such as night and day. It seems logical that these rhythms have been linked to various sleep disorders, like insomnia, but I never would have guessed that they have also been associated with obesity, diabetes, depression, hormone imbalance, bipolar disorder, seasonal affective disorder, and a host of other ailments. The World Health Organization recognized recently that working night shifts may be a possible cause of cancer. Additionally, research indicates that the times at which we eat contribute to the disruption of the circadian cycle.
The good news is that small changes can be made in our daily lifestyle to sync our personal patterns with our circadian rhythms, in order to reverse engineer bad habits, which in turn lead to improved health, longevity and ageing. Since I am now in my early 60s, this really caught my eye!
Some of the recommendations sound simple, but for me proved to be challenging to put into practice. Making the most of one's circadian rhythm requires disciplined sleep routines, a healthy diet and consistent self-care practices, and of course regular exercise. But the benefits do seem worth the effort and investment.
It works much like a conductor, striking up one section of the body's orchestra as another quiets down, taking its main cue from light signals in order to stay in sync with the 24-hour day ~ Sarah Yang
The circadian rhythm is like the human body's Microsoft Outlook Calendar. It schedules our sleep, energy highs and lows, and when we will need to eat to ensure we have adequate energy to survive. Aligning our lifestyle and daily schedule with this internal clock means things work the way they should. We sleep solidly and wake up refreshed, hormones are secreted properly, adrenal glands respond to stress appropriately, body weight is maintained, and depression is less likely. Given the numerous health benefits it is worth the effort to get this valuable rhythm in sync.

About The Author: Angelic Heights

Empathic, intuitive, psychic from a very young age, Angelic Heights (Gail) learned well the importance of using her gifts for the highest good. Marriage and a career in the paralegal field occupied her until her early 30's. Accurate, compassionate and direct, her focus now is entirely on enlightening, uplifting, inspiring and guiding those who seek her counsel. Get a reading right now with her at PsychicAccess.com


One Response to Aligning With Your Circadian Rhythm