Learning To Pray With Archangel Selaphiel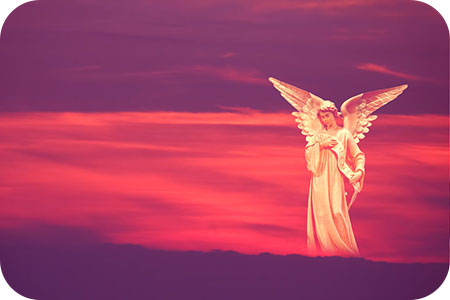 Archangel Selaphiel, also known as Zerachiel, is a motivating and compassionate angel who assists us in the very act of praying. In fact, his name actually means "one who prays to God" or "the prayer of God".  He teaches us the importance of prayer, because it helps us to vent our feelings appropriately to God.
Furthermore, Selaphiel can assist us in the process of prayer by helping to block out any unnecessary distractions, so that we can fully concentrate on our prayers, and most importantly, recognize what the Almighty has to say when he answers.
Selaphiel's angelic duties do not stop there. In Astrology he is referred to as "The Angel of The Sun", since he works in conjunction with Archangel Jehudiel to control all planetary movements. He is also believed to assist people in the interpretation and understanding of their dreams, as well as help those who struggle with addiction. He also protects the younger generation, and is both the overseer of earthly exorcisms and the ruler of heavenly music.
In The Bible, Selaphiel, along with Angel Suriyel, was instructed by God to assist in the rescue of Adam and Eve from the deception of Satan.
So, how do you recognize him when he is in your presence? The following signs should help you know when he is close by.
When he is around, you will probably see flashes of burgundy or deep purple. His robes are bordered in gold, and he wears a golden belt. He is regal in bearing and has a soft, loving, and kind face ~ Susan Gregg
Flashing Red Light
Archangel Selaphiel's aura is red, because the frequency of his electromagnetic energy is in direct correspondence with the light ray of the red angels, who are, incidentally, led by Archangel Uriel to assist people in discovering the wisdom of God and by doing so, make the right choices in life.
Selaphiel's primary emphasis, however, is on prayer and he will assist you in praying, so that you may find both compassion for, and gain wisdom on how to help those who are in need. Those who have had direct experience with Archangel Selaphiel say that he makes his presence known through a flashing red light.
Desire To Pray
Have you ever felt a strong urge to pray about someone or something specific?  If so, then it is highly likely that Selaphiel is sending you a message, via God, to pray to him, and to gain answers to your prayers, solve your problems and lead a happier life as a result.
Loving Warmth
Should you feel, for no apparent reason, that the temperature around you rises, even when it may be freezing cold outside, then this is a sure fire sign that Archangel Selaphiel is putting in an appearance. In fact, should you decide to call upon him, then this warmth may start to spread across your chest area, and your feet and hands may begin to tingle.
The following is a simple prayer to Archangel Selaphiel to request his assistance.
Archangel Selaphiel, the almighty and all-knowing servant of God, guide me in my prayer and assist me to worship The Lord our God correctly. 
Furthermore please help me to live my life in a way that would be pleasing to God by being of service to mankind. 
I request that you (name your personal requests) and put these to God our Father in the name of Jesus Christ. Amen.
When we pray, we relax, reflect, and renew our commitments to God. The peace that comes from consulting with God and receiving His divine wisdom is a powerful hug ~ David DeNotaris
Providing you speak from the heart, he will always hear you.  However, the importance of gratitude should not be overlooked and once you feel that your prayers have been answered, it is essential that you send your thanks to the angelic realm for their assistance. The following gratitude prayer can be put to Archangel Selaphiel, to send on your behalf to God.
Dear God, in my everyday busyness, I sometimes overlook stopping and thanking you for all of the good that you have brought into my life. 
It is true that I, like many others, often allow myself to become overtaken by life's passing events and fail to stop, look and show gratitude for all that you have done for me. 
Nevertheless, I do thank you, from the bottom of my heart, for the very gift of being alive, the ability to give and receive love, to witness the creations of nature every day and for the possession a healthy body and mind.
I also, dear God, thank you for the challenges that you send me because they help me to grow in strength as a human being and I shall take that strength into the future with me, thus making it a particularly good one!
I am furthermore indebted to you for hearing the laughter of children; having an abundant life, which includes both the food on my table and the clothes upon my back; to have loyal, supportive, loving friends and family; and to live in a world that is both beautiful and contains beautiful people.
Last, but not least, in the silence of my room, I thank you for the unconditional love that you send me on a daily basis.  Amen.
On a final note, Archangel Seraphiel teaches that by learning the art of sincere prayer, it can help to build a good relationship with God and the Angelic realm. Who better to have on your side and guide you to an increasingly happy and abundant life? However, as important as praying is – so is sending gratitude!
Nevertheless, while verbal recognition is appreciated, you can extend your thanks to the angelic realm in other ways too. Say, for example, Selaphiel has helped you get a better job, then you may choose to buy a needy person a nice healthy meal. Alternatively, you may wish to help a colleague, friend or neighbor to get a better job themselves, and thus help enhance their lives on a long-term basis!
By whatever means you decide to extend your gratitude, it will be recognized, admired and shall help to build a firm relationship with Archangel Selaphiel, all of the Archangels, and indeed The Almighty.

About The Author: Lucinda

Lucinda is a highly trained Intuitive and Empath, living in a beautiful village in North Yorkshire, England. She possesses the rare gift of understanding a client's personal pain and has been through many challenges, herself, which has only made her stronger! It is both her calling and her happiness to help those in need. And whenever she needs a little help herself, her Guides are always there to assist in her development and provide clear interpretations for her clients. Prediction has always been a great tool she could count on to accurately foretell events, but Lucinda also draws on her expertise with Dream Interpretation, Numerology, Angel Cards, Law of Attraction and Life Coaching to provide full and detailed solutions to any problem. A member of AMORC and Beyond Freedom Evolution, she provides inspiration, education and personal support for spiritual development. If you'd like answers or want to attract your desires, you can find Lucinda at PsychicAccess.com.