Moon's Mailbag # 1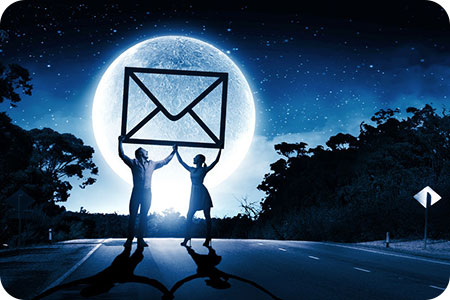 Welcome to my new monthly blog entitled Moon's Mailbag, wherein I will answer a variety of questions on all things metaphysical, paranormal and psychic. Yes, that's right! Each month I will select a few of the questions I receive from my clients on Psychic Access. To get the first mailbag edition rolling, I asked a few of my regular psychic reading clients to think about some good questions. By the way, if your question didn't feature this month, it could potentially be answered in a future publication.
Q: I've heard that it takes a lot of energy to do a psychic reading. How do you prevent yourself from being drained energetically?
A. There are several things I do and several things I don't do.  I try to keep my life  balanced. I only work when I'm energetically string enough. I don't spend time doing things that are energetically depleting. Keeping myself energetically balanced to be able to provide readings is an important part of my job as a psychic, and it requires my full-time dedication and self-discipline.
Q. I personally know a professional psychic whose gifts and abilities has caused him a lot of disconnection, and tension within his family. I would think it would be the opposite? Shouldn't having the gift help create a more tight bond with loved ones and friends? Have you had to deal with this yourself?
I can truly empathize and sympathize with your friend. In fact, I can confirm that most of my psychic friends and acquaintances have mentioned this same unfortunate set of circumstances in their lives. Having the gift of psychic ability is bittersweet. It is nice to be able see, feel and hear things, but sometimes it really can affect our most personal relationships. And it often does.
We have the ability to know and channel things that many cannot. It is great when we are reading for those we don't know. We share the info then forget it and move on. But having one or more psychic abilities also affect how we view others in our personal lives, especially family members and friends, because we tend to know who is honest, who gossips, who is being real with us, who we can trust, and who has good or bad intentions. Ultimately we can usually sense who is safe, and not safe to be around.
You don't ever have to feel guilty about removing toxic people from your life. It's one thing if a person owns up to their behavior and makes an effort to change. But if a person disregards your feelings, ignores your boundaries, and continues to treat you in a harmful way, they need to go! ~ Daniell Koepke
We also tend to make smarter decisions about who we spend time with, such as decisions about we will visit for the holidays, or whether I'm going to be carrying that Tourmaline stone with me when I have to be around so and so…
Free will is a wonderful thing. We don't have to share space with those who are void of good cheer, those who gossip, those who emit toxic, negative energy, or are energetically unsafe. But this doesn't always endear us to those we have to share space with, mainly because we no longer wish to share space with them. Why? Well, because we can't 'unsee, unhear or unknow' things we have become aware of by way of our gifts.
I've found it is sometimes the most difficult when we intuit things about those we know personally, directly and or indirectly. It changes the way we view the person who we felt we knew at least on some level, or to some degree. It really can alter the relationship and the connection.
Q. Can you use your psychic ability to play the lottery?
A. I don't gamble. However, I have picked several winning numbers for others. The closest I came to the game of chance was when someone asked me which horse he should bet on. There were many horses involved and many factors that could have changed the outcome. Luckily, for him, he was on the phone with me right before the race and before he picked the winning horse. I could see the name of the winning horse very clearly in my mind's eye… and I picked the right one!
Q. Do animals have souls? My cat died a little over a year ago and I miss her very much. She lived to be 20 years old. 

A. Yes, of course they do! In fact, I am seeing and feeling things around her that indicate she visits you often. She wants me to confirm that she is on the bed with you every night. She thinks the stuffed animal cat you bought, which looks like her, is nice, but she is still there with you. When you are feeling her jump on the bed, it is not your imagination… it's really her!

About The Author: Moon Goddess

Moon Goddess is a third generation empathic healer and seer. She started to give healing readings to people more than 20 years ago. She has always been interested and studied all things metaphysical from a young age. Being hypersensitive she can feel and see things before they happen. Utilizing the Tarot, and with the help of her Guides, she is a source of support for many people all over the world. After he passed over, her grandfather kept his promise and came back to say goodbye and gave her the most amazing experience. Moon knows there truly is a Heaven, and it is wonderful! Sharing her experience has helped many people after they have lost someone, or anyone experiencing some form of grief. Get a reading with Moon Goddess now at PsychicAccess.com.