Nan Lightfoot's Words Of Wisdom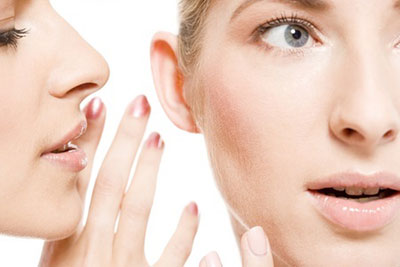 I was about 20 years old when I experienced an in-depth, private sitting with a wonderful spiritual medium, known to me as 'Nan Lightfoot.' My father had heard of her through the local spiritualist church, and it turned out that this lady lived just two blocks from our house.
A friendship soon blossomed between us. I would help her with shopping and running errands whenever I possibly could, until I finally left England for many years. During our many conversations, she would pipe up with wise advice channeled from her spirit guide. She would drop her head and rattle off in Welsh, and then suddenly stop. She would then come out of a trance-like state and, without hesitation, relay to me the English version of what her guide had just told her.
If we can share our story with someone who responds with empathy and understanding, shame can't survive ~ Brené Brown
She said I should always be mindful of the importance of "holding my own counsel," particularly should I find myself in delicate situations, whereby I might feel inclined to  share sensitive information about myself, which could subsequently make me vulnerable. Her message didn't make much sense to me at the time, but it was one of the many valuable predictions that came to pass from this dear Welsh lady.
Experience has since taught me that in certain environments, especially the corporate world, diplomacy and tact concerning my addiction was an absolute necessity. However, there was one time when I did drop my guard. I was working for an airline at the time and a colleague poured her heart out to me about her drinking problem. With genuine intention to help her to see that there was hope for her situation, I told her about my personal story. Naturally, I asked that what I divulged in confidence should stay that way, and she promised that her lips were sealed. But within a week the news had spread like wildfire!
That was a lesson. I was gutted, mainly because of the confidence betrayed more than anything else. Perhaps, it was my ego that took a bashing also, as my squeaky-clean, 'goody-two-shoes' reputation was now being challenged. I'd never opened up outside of the walls of Alcoholics Anonymous as to why I didn't drink and let my hair down with the rest of the girls. I did this mainly for fear that this could impact my long-term success with this employer at the time.
Depending on what it is that you're confiding, it can take a lot to share an aspect of you which opens you up to being so entirely vulnerable. You're human, you want to be liked, loved and approved of, and often there's the fear that, by sharing, you run the risk of tarnishing an image of yourself.
For quite a while, I gave myself a hard time for confiding in her, and I guess was a bit embarrassed, because I could sense the people I was working with no knew things about me that I had kept under wraps so well for so long. Nan Lightfoot's wise words sure came flooding back to me!
We dance round in a ring and suppose, but the secret sits in the middle and knows ~ Robert Frost
In hindsight, it was a useful lesson. I can now relate to so many of my clients who also feel that their trust has been betrayed by someone. I can now help them to understand that the embarrassment does wear off, and that it is easier to deal with it right now, rather than dwelling on our regrets and shame. I do believe that if something wasn't meant to have happened, it wouldn't have. And if we learn from the incident, it serves its purpose and that's all that matters.
Would I take someone into my confidence again? Sure, yes I would! I am in a fortunate position now, whereby discussing my addiction is more appropriate. But, even with the way things played out in the past, who knows who I may have helped when my 'secret' was exposed. I just might have helped someone, or their loved one who was secretly struggling with addiction, by being proof that one can survive in a challenging 'boozy' work environment and remain clean and sober.

About The Author: Shani

Shani is a qualified practitioner in Reiki, aromatherapy, reflexology, body spin, and animal telepathy who received psychic development training at the Arthur Findlay College of Psychic Research in England. A published writer, her articles and predictions have appeared in several respected magazines and on psychic websites, and she has read for many celebrities and even heads of state in Africa. Though she was born in London, Shani has traveled the globe and has studied the art of African Mysticism, bringing her unique flavor to those seeking her incredible talents. Get a reading with Shani at PsychicAccess.com.


This site uses Akismet to reduce spam. Learn how your comment data is processed.