A Deeper Sense Of Spiritual Connection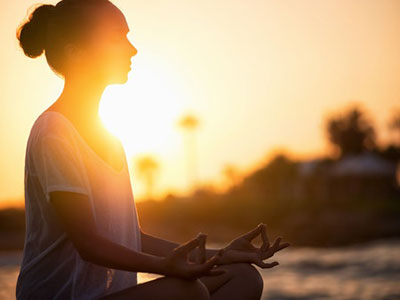 Spirituality is unique to every individual. Some people experience an overwhelming feeling of the Divine within, while some do not get any feeling whatsoever. Many clients ask me how they can get closer to God, or connect with spirit, or even get that feeling of serene tranquility while meditating.
To experience a deeper sense of spiritual connection try one or more of the following strategies in your spiritual practice:
First of all, never get discouraged! Do not stop meditating just because to don't feel a certain way. Don't have a preconceived idea of what meditating should be like. Just being committed to the process and staying the moment is enough. Be present.
When you do things from your soul, you feel a river moving in you, a joy ~ Rumi
Make time to meditate and or pray. Show up to do it. That in and of itself is already a powerful step in the right direction. You don't have to do anything special or have a perfect experience every time.
Get clear and stay focused. Do all you can to eliminate all drama and chaos in your life, and focus on your spiritual practice for just a few minutes every day.
Know also that you can love those you are related to, without having to share your personal space with them or engage with them on a frequent basis. For example, I prefer to text with those who can't be civil in person. This way we are still connected, but in a safe way.
Sometimes being around those who are negative, skeptical or even toxic, keeps us from achieving greater awareness and connecting with our higher self. Some solitude or distance is often the best way to really arrive at that place of inner peace and contentment.
Remember there is no need for pressure. There is no exam to pass or deadline to keep. Go with the ebb and flow and allow yourself the authentic experience of whatever happens while you are meditating or praying. Don't force it. This is key. Just enjoy the silence and go with the flow. Just observe what you're feeling within, focus on your breath. Just be.
Be happy in the moment – that's enough. Each moment is all we need – not more ~ Mother Teresa
To really connect with or sense the Divine, be vigilant, keep praying, meditate and ask God to show himself or the Divine to give you a sign or feeling. Just continue to do all the things you know to do. It will happen, maybe not right away, but it will. Some people feel they must travel to far off lands to get that feeling or realization. Some simply just take a bath and have a sense of already having arrived. It is different for everyone.
Another key I have found is deeply desiring to connect. Visualize what you want to experience, and then let it go and let God do the rest. Allow the experience to happen. It is wonderful once you can feel the wonderful feeling of connection with everything and energetically stepping outside of yourself to just allow yourself to just be.

About The Author: Moon Goddess

Moon Goddess is a third generation empathic healer and seer. She started to give healing readings to people more than 20 years ago. She has always been interested and studied all things metaphysical from a young age. Being hypersensitive she can feel and see things before they happen. Utilizing the Tarot, and with the help of her Guides, she is a source of support for many people all over the world. After he passed over, her grandfather kept his promise and came back to say goodbye and gave her the most amazing experience. Moon knows there truly is a Heaven, and it is wonderful! Sharing her experience has helped many people after they have lost someone, or anyone experiencing some form of grief. Get a reading with Moon Goddess now at PsychicAccess.com.