When Angels Approach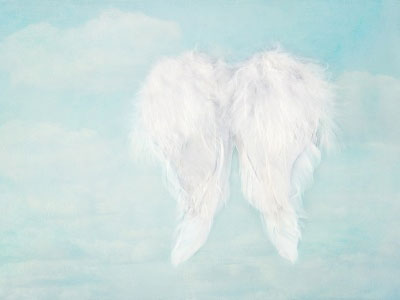 It's no surprise that angels are always around. After all, they are immortal, timeless, and beyond time and space as we know it. They come to guide and comfort us in the times of our greatest need, without even being asked.
But how do we know when they're especially near? Do they appear in the ways we're used to seeing in movies and television shows? Not quite. It's a little more subtle than that.
Look for the signs. One object automatically associated with angels is, of course, feathers. Yes, they do have wings! If you start to find feathers, especially soft, downy white or grey ones, in places they wouldn't ordinarily be found, that's clue number one. The same is true for random sparks, or flames. These can be anything from a brightly colored individual flame to a glowing bubble or orb.
The golden moments in the stream of life rush past us and we see nothing but sand; the angels come to visit us, and we only know them when they are gone ~ George Elliot
Found coins in the street, or in a parking lot? These little tokens, traditional signs of good fortune, were probably put there by your angel. Maybe you've looked up into the sky and seen a rainbow? Also a safe bet. Even Iris, the Greek goddess of the rainbow, was depicted in art as what we now think of as an angel.
And if it's not a day for rainbows, check the skies. Like feathers, clouds have always been affiliated with angels. If you see shapes such as hearts, wings, or something personally meaningful, they were put there for your benefit. At night, the moon, stars, meteorites (falling stars) or visiting comets are all the domain of the angels too.
Maybe you've had a time when you simply felt one with everything… peaceful, and calm. Angels have the ability to channel this energy to us. Because we normally operate with at least some stress, we need their help in order to return to a natural state of tranquility. Try meditation, or a walk in nature, to connect with them in their natural habitat.
Angels sometimes appear in a more familiar form. Have you ever met someone you feel you've known all your life, and immediately feel comfortable in their presence? That person might just be an angel in disguise. These special individuals are sent to us at the times in life when we need them the very most.
God not only sends special angels into our lives, but sometimes He even sends them back again if we forget to take notes the first time! ~ Eileen Elias Freeman
It's sometimes said that animals and children have the purest hearts, which is why they, too, are angelic messengers. Our pets give us great comfort and joy. Some people even refer to them as "angels with fur." Children have the gift of telling us the truth without varnish. Listen to what they say, it's probably something we need to hear.
The idea of listening to your angels better isn't supposed to make us guilty or ashamed. Angels do represent the best parts of ourselves, and as our heavenly guardians and advisors, they are there to help us achieve fulfillment and peace. If you're going through a difficult time and wondering why, stop for a moment, take a step back, and look at all the angelic signs around you. They are most certainly there!

About The Author: Mystic Shelley

Mystic Shelley is a Psychic Medium. She has been reading for over 15 years helping and guiding people. She uses my 8 spirit Guides during her readings. She reads in the area of love, relationships, career, money and all matters of love. She will give you only honest and direct answers. Get a reading with Mystic Shelley now at PsychicAccess.com


This site uses Akismet to reduce spam. Learn how your comment data is processed.