The Miracle Of Automatic Handwriting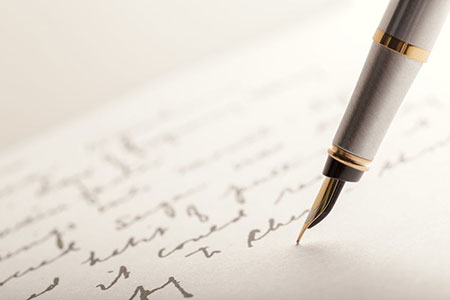 Growing up in a psychic family, I was constantly among adults who were seeing ghosts and reading people's eyes. But I always wanted to be different than the other psychics in my family.
I guess that is one of the reasons why I began reading ordinary playing cards, instead of the Tarot. But I wanted to experiment even further, and in time I also discovered that I could open up the flood gates with automatic hand writing.
I have to be very careful, because when you use automatic writing it can be like opening a can of worms. Each time I do this I make sure beforehand that my mind is calm and clear. I also see to it that I have lots of blank paper, because you can use a lot of paper in one session.
I also have to make sure that when I did connect with a spirit it was indeed from the Light. After some of the things I have witnessed in my life, I certainly do not want to invite any evil spirit or any other dark entity that could harm my family or me.
I remember my very first time I was very skeptical of doing automatic writing; I asked, "Are you with the Light?" A simple question. The only answer I received was a straight line. I was not very happy or impressed. That was it? Just a straight line? My second time it was not bad, because the pen wrote the word yes. It kind of freaked me out at the time.
I knew I needed to practice more. So, I put more hours into it and the more often I did it, the better I became. I would even try it while playing music. Eventually, I was ready to try this together with the cards. This is not a traditional method, but like I said, I wanted to be different. The first time I placed the cards face down and then did the automatic writing first, to see what it would say.  The first word that came through was "baby". Next was the word "girl" and then "candy."
When you're automatic writing, you're not aware of what's being written. You feel a sort of floating sensation, as thought you're floating above your keyboard – Lori Meyer
When I turned the cards over it revealed the Queen of Clubs. That meant a woman with dark hair would get pregnant and have a baby. The next card was the Queen of Hearts. Yes, you guessed it; it means a female with red or blonde hair. This was followed by the Two of Clubs, confirming that there would be a baby. Well, shortly after that my sister in-law became pregnant and she later had a beautiful baby girl with red hair. This was all the confirmation I needed. Automatic handwriting really opened my eyes to the spirit world and I continue to use it in psychic readings.

About The Author: Raymond

Growing up on the streets of Columbus Ohio, Raymond learned at a very young age that he was gifted in many ways, including the ability to read someone's eyes and using a regular deck of playing cards to read the future! His mother was from a Native American family, namely the Black Foot tribe, and his father was German. Raymond discovered that both sides of his family had a psychic legacy. Over the years he has gained additional knowledge from books and by talking to trusted family members. Raymond has been doing psychic reading for others for over 3 decades, and over the years he gained many loyal clients from all walks of life. Visit Raymond for a reading at PsychicAccess.com


This site uses Akismet to reduce spam. Learn how your comment data is processed.