Abundance – A Channeled Message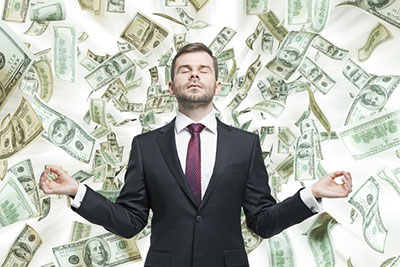 In the past couple of weeks, I had to deal with major financial expenses related to our property. We have to move across the country, and we are having issues with the house. Then there were also the added costs of a vehicle that needed urgent repairs. This was not a lot of money, but it came up at the same time as the property issue, and the costs of our move.
To add insult to injury, my beautiful little kitty knocked over a cup of water onto my computer yesterday… and fried my motherboard! I found out later that my extended warrantee had just expired, and the repair costs were not really worth it, considering that the technology was a few years old. So, I had to purchase a new computer for work.
Abundance is not something we acquire. It is something we tune into ~ Wayne Dyer
I was not sure what to do about all this negative energy in my life, but I knew I had to do something. I laid down on my bed and began to meditate. Normally, I meditate sitting up, but with all that was going on I really felt the need to lay down. As I was centering myself, I encountered a spirit guide that I had not encountered in the past.
She was wearing a white flowing gown, and there were gold coins and a glowing light being emitted from her dress. When she showed up, I felt my entire body relax and I could see the energy of heavenly abundance flowing into me.
I later learned that this guide's name is Abundantia. She is a spirit guide associated with ancient Rome. She normally carries a horn of plenty with her, to pour out the abundance from heaven, but I did not see this item with her. Later, I received this channeled message from her:
"Far too much of your journey, dear one, has been associated with fear over financial issues. Your imagined experience of loss is associated with the thought or idea that something can in fact be lost. But the Creative Source is always manifesting in your favor, whether you are receptive, or not.
Energy is constantly moving in and out of your human experience, and this is true of the energy of financial prosperity also. You sometimes tell yourself the story of lack or loss, simply because you create an epitaph* for past transactions. Your best course of action dear one is to simply let go. Don't focus your attention on necessary past financial transactions. Even if your release of money was unnecessary, in your view, it is of no concern to you, because the Source is infinite. The past is over, let it go.
Do not approach money and material possessions from a perspective of 'not enough.' Never see abundance as a result of fate or chance. Nothing happens by chance, and this is also true of your relationship with money. Your gain comes through a conscious alignment with the Good that has always been and will always be.
Abundance is not a number or acquisition. It is the simple recognition of enoughness ~ Alan Cohen
There was enough yesterday, or you would not be hearing this today. Yet, you felt challenges associated with your money, and your story of 'not enough' superseded your ability to feel the abundance that was truly there. Most of what you experienced were thoughts that defined your experience. The story you told yourself was not wholly true, and this present experience is evidence of this.
Your experience was an idea or story that created certain emotions, and those emotions created your experience. Emotions are your creative energy signature that the Universe responds to at any given time. They are your litmus test for creating your future, so pay attention to them. If you find that you are fearful, anxious, sad, or angry, then you know that there is a belief within that is limiting your experience of the abundance of today.
The only limits to abundance are those you put on yourself through fear. Call on me, and I will lead you away from fear, into trust. All is available to you, because you are a child of God. Nothing can ever be withheld from you, but your denial of what is available certainly limits your experience of wealth and abundance.
Let the floodgates open, for you dear one are the only one with the key. No longer do you need to survive on the mere droplets, because far more than you could ever imagine is available to you. You open the floodgate doors by allowing it to come in, and We will ensure that the torrents of love and abundance will never dry.
Heaven cannot be emptied of abundance, for this would be impossible. The Infinite could never be limited in this way.  Feel abundance now, and it is yours. Nothing will ever be withheld from you, so release the idea that you deserve anything less than a full and prosperous life."
*An epitaph is a statement of memorial for an individual that has passed.  I had to look it up, and what I get from the channeling is that it represents grieving over exchange or seeing exchange as loss.

About The Author: Cosmic Coach

Cosmic Coach (James) has mastered many techniques in his psychic practice to connect with the unique heart center of each of his clients. He is a Reiki Master of many traditions, who is adept at crystal healing, card readings, and delivering detailed messages from Angels and Guides. A Christian Minister, a teacher and an Energy Guide, living in Michigan, James is always expanding the base of his knowledge to broaden his reach and serve as many clients as possible. To experience a unique reading personally designed for you, you can find Cosmic Coach at PsychicAccess.com.


This site uses Akismet to reduce spam. Learn how your comment data is processed.