The True Meaning Of Bliss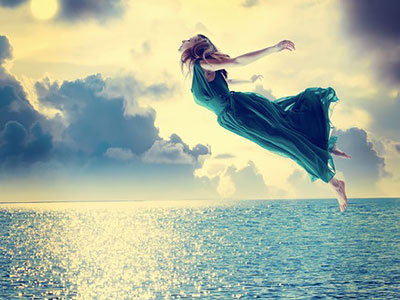 I have been contemplating how often a friend's photo on social media, a call from a customer, an advertisement, the written word, or an overheard phrase has triggered a really significant memory for me. This was the case again last night, when the word "bliss" featured in a commercial for chocolate on my TV screen. For some reason this prompted a memory from many years ago.
I was working temporarily in a retirement home as a caregiver. Although I didn't have long-term plans to remain in that job, I loved working with the old people, and used to give them reflexology treatments and healing massages in my free time. The short treatments gave them great relief, and they began asking if I would come back and help them again.
This caused a lot of animosity with the rest of the staff, who were already unfriendly towards me. They made it clear that I was not 'one of them'. I was the outsider, and not from 'their village.' The home's matron asked me to stop doing any healing or therapeutic work with the residents, because it was not in my job description.
When all the disturbing thought-waves in the mind have subsided and there is unbroken flow of peace and the heart is filled with the bliss of the absolute, when thus the truth has been seen in the heart, then this very world becomes an abode of bliss ~ Sage Vasishtha
This experience in itself was one of those life lessons which has taught me to identify with some of my psychic customers, who are distraught, because they feel like they don't belong in their current work environment, or other circumstances. I have been there myself and I can certainly relate.
One beautiful memory which came from that place of work, was of Mary, one of the residents. Both Mary and a senior nurse, Joanne, had on separate occasions pulled me aside and said to me in their own words, "You must get out of this place, its evil and you don't belong here."
Mary was in a wheelchair. She was an intelligent, chic, attractive woman in her eighties who had resigned herself to ending her days in the home. Joanne, on the other hand would have had other options, but said that the job suited her best for now, as she was paying for her son to finish university.
I only worked there two months, because thankfully, the job I was waiting for presented itself just in time.
About one week before I left, Joanne called me to come to Mary's room. Mary had peacefully passed away during her sleep. I have never since witnessed such a look of absolute bliss on a person's face; it literally looked like Mary had turned into an Angel! She was so beautiful. Hers was a look of relief, and what I can only begin to imagine must be sheer bliss. I felt that all her loved ones on the other side of the veil had stepped forward to greet Mary as she was leaving her worn out body.
Journey toward wellness, create positive ideas, live a spiritual life and your loving guardian angels will guide you to a place of beauty and bliss. If we listen to the divine messages of our souls we can attain true freedom and happiness ~ Micheal Teal
My only personal recollection of experiencing a profound altered state is back when I was 14 years old. I even recall the setting, waking up and looking out of window feeling blissful, as if I'd been transported to another world during sleep. Sadly, after sitting in that other worldly state for what must have been half an hour, my left brain kicked into its usual sense of hyper-responsibility and I got on with some chores, not thinking the feeling would vanish in a flash.
I spent  a while researching the actual word bliss and it certainly seems to surpass the capacity of language as I know it. All I know is that it is the most serene sense of feeling completely connected to the source of my being, and at one with everything and everyone.
One interpretation of bliss is that it is "the peace which passes all understanding," and certainly more than some daily sense of calm which we aim for, based on the nervous system. It goes beyond that, and I even considered the deeper meaning behind the saying "ignorance is bliss." This for me has much truth in it, for it suggests that some ignorance helps in not being too bombarded with negativity by the material world and modern media.
I have known contentment when I am doing what I love, surrounded by those I love, but bliss is something more – I guess it is a taste of our true spiritual home.

About The Author: Shani

Shani is a qualified practitioner in Reiki, aromatherapy, reflexology, body spin, and animal telepathy who received psychic development training at the Arthur Findlay College of Psychic Research in England. A published writer, her articles and predictions have appeared in several respected magazines and on psychic websites, and she has read for many celebrities and even heads of state in Africa. Because of her empathy, people find it easy to connect with her. Every month, she attends a psychic circle and the information that comes through from Spirit never ceases to amaze everyone present. Though she was born in London, Shani has traveled the globe and has studied the art of African Mysticism, bringing her unique flavor to those seeking her incredible talents. What she has taken away from her many travels abroad, is that there is always a sort of longing clients have to be connected to the source of their being. Get a reading with Shani at PsychicAccess.com.


One Response to The True Meaning Of Bliss