False Education Appearing Real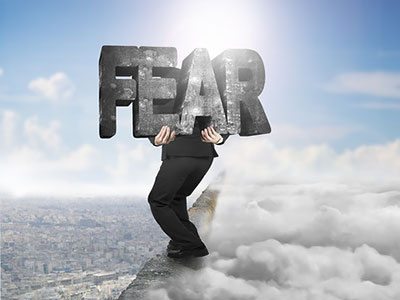 I love the acronym F.E.A.R. (False Education Appearing Real) since we all have people, circumstances, phobias and so forth, that can put us into that space. Fear is an instance of emotion that is triggered by the awareness, or anticipation of danger. It can also become a state of being. Excluding clinical fears, needing professional help, there are many fears we simply impose upon ourselves as a result of life experiences.
One of my fears is acrophobia, the fear of heights. When I get within five feet from the edge of a rooftop, I begin to shake. Climbing 30 foot ladders has me nervous and when I hiked to the pinnacle of the mountain of Macchu Picchu in 2004, I could not take those last six nervous steps onto the plateau pinnacle rock. This was partly being due to a few other tourists already sharing the rock… and I am a little "accident prone."
Fear is the main source of superstition, and one of the main sources of cruelty. To conquer fear is the beginning of wisdom ~ Bertrand Russell
Although I was invited by my partner, Sue, and the guide, I leaned against the rock debating my fear, shaking a little at the prospect and wishing that I could take those final steps, as I might regret it after I hiked down. Part of me did regret not taking those last steps when we got back to the base.
Yet, a bigger part of me knew I had to acknowledge the feelings in the moment, and since I am not a regular exerciser, I already had accomplished something tremendous by taking the hike to the top and back down the back side of the mountain. On the way I enjoyed the magnificent views and spiritual energy for several hours.
I started the hike fearful that I could not complete it. I did it by taking it slow, but mostly due to having supportive people with me, willing to have my pace dictate theirs. An friend from Iceland teases me, claiming that my fear originates from the time she had pushed me off Macchu Picchu in a past life! Truth be told, I have had some past life regressions done that go back to the source of the fear and release it from cellular memory.
Over the years I have also learned that if we wish to have a fuller life, it requires us to become aware of both our strengths and weaknesses. However, we must use the perceived 'weaknesses' as an opportunity for growth, for development. Always moving forward when faced with something we fear.
Many will say they have a fear of failure and that prevented them from following their passion, or from failing (or delaying) to leave a relationship or job that was no longer serving them emotionally, physically or spiritually. But I suggest to you that perhaps it is an innate fear of success that prevents some of us from breaking free from self-imposed restrictions.
You gain strength, courage, and confidence by every experience in which you really stop to look fear in the face. You must do the thing which you think you cannot do ~ Eleanor Roosevelt
Many of us have been educated and raised in an environment that demands competition, and if we do not achieve a specific goal or come out on top, then we have failed. We can feel guilt, rejection, dismay, or even more challenging emotions about ourselves, even if those around are actually praising us. These emotions are then internalized and our (altered) ego cleverly manipulates these emotions into becoming a belief. From these beliefs we desperately hold on to a state of being that is triggered by emotions at a future time.
If we are fortunate to create beliefs that are supportive, and loving in nature, they propel us forward into a realm of wellness, abundance, love and harmony. If the beliefs are centered on such statements as "I can't" or "I shouldn't" or "that won't ever happen for me," then a paradigm shift is needed.
So how about you choose to reflect on shifting the emphasis of fear of failure to fear of success, and ask yourself: what does success look like, what does success feel like. Then state to yourself if this is how you define success, what possibly is there you would need to fear. If you are in a place to not fall back into the 'failure' model and create items to fear, then you can smile and say life will be awesome. It will be awesome to be in a place of success and there will be less to fear by default, so I will take success.
Remember fear, discomfort and such emotions present themselves to you to ask you to grow, to expand. It is time for change; time for your soul directing you to pay attention to its evolution, to move up the ladder of compassion and spiritual growth. Fears of where will I go, or what will I do if I leave that career or relationship, are simply 'false education appearing real' statements. I still have the fear of heights, yet I am aware that it is lower grade to that of several years ago.
As you have decisions to make in the coming days, weeks, months or years, remember to witness the fear, name it, embrace it and take steps to step through it. Feel yourself devoid of that fear, successfully choosing to take action of growth. Live an abundant, successful, joyful life from here on out.

About The Author: Graham

Graham has developed a powerful connection with Spirit that he shares with the world, passing along valuable and detailed information that includes specific dates and time frames. His service to Spirit has allowed him to transform countless lives and it continually validates continuity of life. Spirit has even saved his own life! Colleagues have learned to trust his advice, even if they can't explain how he does what he does. With many loyal clients around the world to attest to his talent, Graham continues to reach many more through his eight CD audiobook on Mediumship and other Metaphysical subjects. Graham was born in England but now resides in New England. He's a certified Medium, Channel and Spiritual Healer, to name but a few of his offerings. He is also a teacher and has served on Spiritualist committees in the US and in Europe. He's provided thousands of readings and also loves to give back to the community, offering his services at fundraising events, local hospices, churches and camps—wherever he is needed. If you'd like precise and accurate information on your life path, you can find Graham at PsychicAccess.com.