Love Is The Glue That Binds Us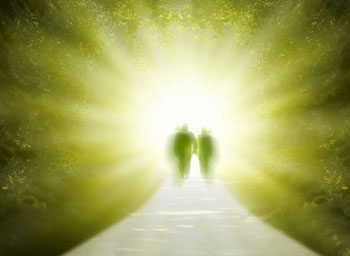 I have been asked many times by my clients, and those that know of my gifts, if the people they love are still able to connect with them after they transfer over to the spirit realm. My answer is always "of course!"
When you love someone there is a cord that connects you and that person for all of eternity. That love never goes away. It is always there and it is what makes it possible for us to connect in the dream state with those on the others side. We can connect with our loved ones in the weighted down material realm also, but in the astral realm or dream state it is so much easier. All we have to do is set an intention.
For example, before we go to sleep we may say, "I really want to connect with Grandpa tonight and have a conversation by way of telepathy." Those of us that have had visitations are already well aware that when we communicate with our loved ones this way it is always through energetic thought transference, and not with actual speech. The communications is clear, fast and seems almost more real then communication in the physical, material realm.
Love, unconditional love, is the most powerful force known in the universe… Unconditional love is the irretrievable link with our loved ones in the afterlife. ~ Victor Zammit
Many of my clients have shared with me that they had an easy go of it by simply setting an intention to connect with their dearly departed loved ones, instead of just waiting and doing nothing. Putting forth the desire to connect and connecting with the emotion they felt for the person was the ingredients needed to make the visitation happen. They shared something that was all too common in all of the feedback that I have received over the years from many people. During these visitations their loved ones told them they are always with them, and will be there for them to help their transition from the physical to the spiritual, so they will not be alone when their time comes. They were also told they love them and that love is what will always connect them.
That is exactly what my Grandfather told me the first time he visited me, to let me know he was okay. He made it clear that he was with me and would always be there for me. I loved that!
A very sweet client of mine was shown by her loved one that the love she had for her mother is the glue that binds them in the afterlife. She was a very creative person in life and her mother showed her glue and how that glue is what binds them, and the glue represents love. She showed her a creation that she and her daughter made when she was just a child and her mother reminded her how that glue was representative of the love that they shared. It is what will always keep them connected. I thought that was great analogy.
Love truly is the glue that binds us in so many ways, now and in the hereafter. It's the reason why we sometimes think of someone, and suddenly they call us, or we see them walking past our home or on the side of the road as we drive by. It makes us in tune with their energy, but too often we call this synchronicity a "mere coincidence."

About The Author: Moon Goddess

Moon Goddess is a third generation empathic healer and seer. She started to give healing readings to people more than 20 years ago. She has always been interested and studied all things metaphysical from a young age. Being hypersensitive she can feel and see things before they happen. Utilizing the Tarot, and with the help of her Guides, she is a source of support for many people all over the world. After he passed over, her grandfather kept his promise and came back to say goodbye and gave her the most amazing experience. Moon knows there truly is a Heaven, and it is wonderful! Sharing her experience has helped many people after they have lost someone, or anyone experiencing some form of grief. Get a reading with Moon Goddess now at PsychicAccess.com.