And This Too Shall Pass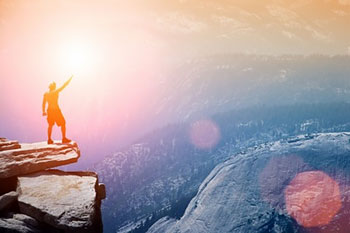 It's been ten weeks since I looked down the 30 meter drop to see the remains of our car, with my husband groaning inside. A neighbor and I arrived at the scene the same time as the local police. They had spotted the car whilst doing their routine rounds. I, on the other hand, had asked a neighbor to take me out to search for my husband.
My husband's brief outing to a nearby store had become a four hour and seventeen minute nightmare. Our neighbor, James, today describes those moments as "surreal." Words which have helped me through much less traumatic times came strongly to mind that day as I gazed down, unable to access my husband. It was as if spirit was whispering them into my thoughts once again: "and this too shall pass". I have often used this mantra when experiencing depression or a setback in my life. I am fortunate to never have experienced the deeper pit of depression that so many souls struggle with in our times.
Every day you either see a scar or courage.  Where you dwell will define your struggle ~ Dodinsky
Other words from which I have found comfort, during the aftermath of the crash, were derived from the teachings of Pat Rhodegast and her spirit guide, Emmanuel, who teaches: "nothing comes about by chance, and there are no moments that ought not to have happened.'.
My twelve step program from Alcoholics Anonymous is helpful too. On first getting sober, the thought of never drinking for the rest of one's life can be overwhelming, but one day at a time can be adapted to one hour, or one minute at a time. And so, instead of worrying about how things are going to pan out tomorrow or a week from now, I just focus on getting through a short space of time.
Some twenty years ago I was having a work related problem, which really upset me because of the injustice involved. My then boyfriend said something I've never forgotten, which was: "will any of this really matter five years from now?" Those words made a lot of sense, but it also made me aware that no matter how trivial another person or client's problem may appear to be right now, it's very important to them, just as my issue was to me so long ago. What I can offer, as advice, are perhaps techniques helpful to me.
We are more resilient than we realize, and if the events of what happened that night ten weeks ago and the subsequent consequences, had been predicted for me, I would have said: "no way, I wouldn't have been able to handle them." But I have. I have yet to accept that it all happened for a reason, but to date it's made me realize how resourceful I am and how wonderfully supportive the community around me have been.
Courage doesn't always roar. Sometimes courage is the little voice at the end of the day that says I'll try again tomorrow ~ Mary Anne Radmacher
When we're in the midst of a drama, especially one with prolonged consequences, we feel like it will last forever, and yet it inevitably passes. When we imagine the future, we think we will always feel the way we do at that moment. We can vacillate with our emotions and if, like mine, these emotions will range from rage to empathy. Most minds cannot ruminate on the same thing indefinitely. Life goes on and it takes us along with it.
As a close friend said: "you should have plenty of material for your creative writing though this experience." I think she is right, but we both wonder what the deeper lesson is in all of this?
The ache of some losses and setbacks may never completely go away. The memories of painful events in your life can still hit you out of the blue like a ton of bricks.
For a couple of weeks, after looking over the embankment and seeing my husband below in the crushed car, all I could see in my pillow at night was that scene. People say that time heals all wounds, which is true, but whilst the open, gaping wounds may close up, the scar will remain.
The journey is not yet over, as some further treatable, albeit potentially life-threatening complications have arisen for my husband. But this too shall pass.

About The Author: Shani

Shani is a qualified practitioner in Reiki, aromatherapy, reflexology, body spin, and animal telepathy who received psychic development training at the Arthur Findlay College of Psychic Research in England. A published writer, her articles and predictions have appeared in several respected magazines and on psychic websites, and she has read for many celebrities and even heads of state in Africa. Though she was born in London, Shani has traveled the globe and has studied the art of African Mysticism, bringing her unique flavor to those seeking her incredible talents. Get a reading with Shani at PsychicAccess.com.


One Response to And This Too Shall Pass