A Family Of Little Orbs Return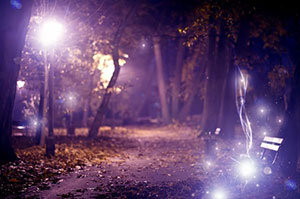 When I was very young I remember seeing this white orb. It was small and at times it got bigger. I would always smell perfume when this happened. My mother was a "clean freak" so I knew it was not dust. At times I could also see traces of orbs of the same color and they would follow each other, or hit the floor and bounce. The pattern was like a family of orbs.
As time went on, I could hear singing like a choir of women. I would look out the window, thinking it was the neighbor lady, but her car was not in her driveway, so I knew she was not home.
Just a thin veil, between this world and that world of beauty and love. Just a thin veil that hides the view of our Spirit loved ones above! ~ Gertrude Tooley Buckingham
Then one day, when I noticed the orbs again, I thought I might be able to communicate with them. But when I asked them to do something, they did not respond. It made me upset, because it seemed like they were following me around. One day, I got so upset I said "stop!" This time it was like the little orbs put on the breaks. Eventually the orbs disappeared.
About 45 years later, on December, 2nd 2014, just before midnight, I took my dog for a walk. I took the same route like every night. It was very quiet, and peaceful, and chilly. Suddenly, my dog stopped, looked up, and started to sniff the air. And then I noticed what she was looking at. The little orbs were back. They were the same color and the same size.
The reappearance instantly took me back to my childhood. I had a memory flashback which made me feel at peace and more relaxed than I had felt in a long time. When I snapped back to the present, I look around to see if anyone was looking at me being a statue on the side of the street.
As I continued my walk, I noticed the orbs hovering around me like gnats around a light. Eventually they took off and disappeared like nothing ever happened.
I still don't know why things like this happen? I feel it was a sign from higher up that we are always being looked over.

About The Author: Raymond

Growing up on the streets of Columbus Ohio, Raymond learned at a very young age that he was gifted in many ways, including the ability to read someone's eyes and using a regular deck of playing cards to read the future! His mother was from a Native American family, namely the Black Foot tribe, and his father was German. Raymond discovered that both sides of his family had a psychic legacy. Over the years he has gained additional knowledge from books and by talking to trusted family members. Raymond has been doing psychic reading for others for over 3 decades, and over the years he gained many loyal clients from all walks of life. Visit Raymond for a reading at PsychicAccess.com


One Response to A Family Of Little Orbs Return