How Fulfilled Are You?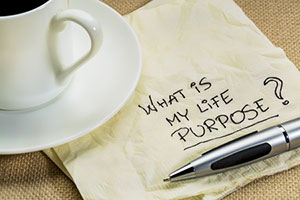 Have you found your niche? Have you discovered what you were meant to do in this lifetime? Doing what you love, while helping others and serving the greater good, is tremendously fulfilling. If you have not found your life purpose yet… the sooner the better.
Personally, I love it when I begin a conversation with a client and I can intuitively reel in information that I can pass on, by way of the Tarot as well as my spirit guides, ancestors and my intuition. To then have a really happy customer by the end of that conversation… well, there is something to be said for that feeling! I feel so good knowing I have helped someone to see their life in a completely different perspective. It is very rewarding.
I think the purpose of life is to be useful, to be responsible, to be honorable, to be compassionate. It is, after all, to matter: to count, to stand for something, to have made some difference that you lived at all ~ Leo C. Rosten
I have helped many people discover what they should be doing by way of career, or why they came here and what their line of work should be. I have also helped many people switch careers by simply seeing what they are doing is not making them feel fulfilled. I love it when my clients tell me I have helped change their life, by sharing with them information that helped them get on the right track.
When we are doing what we love and we are living our passion, we raise our vibration and increase our happiness level. This not only changed our own life, but it also impacts the well-being of the people around us. We also move on to a higher level of spiritual learning once we have achieved and learned what we came here to do.
How fulfilled are you? If you are feeling that you are lacking, then examine what your doing for work. We spent most of our day engaged in work. Is it making you happy? If not, your probably not doing what you came to this planet to do. If you are already doing what you love, but you are still not happy, it could be the environment in which you are doing it. If people around you are negative, it can be very draining and that is never good.
If you need to know what you came to this planet to do I would be happy to take a look into that for you. I have helped many find their niche over the years. Life is too short to not do what you came here to do. Embrace your talents and passions. It is the first step in discovering what you should be doing with your time. It's never too late to start focusing on how fulfilled you are, and to find that bliss in your life that we all deserve.

About The Author: Moon Goddess

Moon Goddess is a third generation empathic healer and seer. She started to give healing readings to people more than 20 years ago. She has always been interested and studied all things metaphysical from a young age. Being hypersensitive she can feel and see things before they happen. Utilizing the Tarot, and with the help of her Guides, she is a source of support for many people all over the world. After he passed over, her grandfather kept his promise and came back to say goodbye and gave her the most amazing experience. Moon knows there truly is a Heaven, and it is wonderful! Sharing her experience has helped many people after they have lost someone, or anyone experiencing some form of grief. Get a reading with Moon Goddess now at PsychicAccess.com.