Two Cards Short Of A Celtic Cross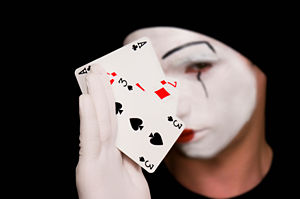 I've written many blogs about psychic issues, spirituality, God, The Goddess, The Universe and so forth. The more answers I get the more questions arise. And I am always learning and being shown new ways, paths and messages. This is one of those messages.
We ask so often, "Why does this happen? What is the answer? Why did he hurt me?" I have at times also asked these questions, because I am human after all. Anything I teach I have learned the lesson myself – very often the hard way! But I have found that for many questions, ultimately, there are few answers. Because the answers we think we want can never truly satisfy us. Why am I bringing this up? Why am I talking about this and what am I even talking about, you may well ask. It's because of an experience that happened to me recently.
There is a couple I know whom, while they get along on the surface, are having real issues behind closed doors – in more ways than one. But I know what goes on, and I keep my counsel unless asked. I often go for a walk after seeing them. And each time I do, I find cards that show me what has just transpired with our visit. They are regular playing cards, which can be used as a tool for cartomancy readings, just like a tarot deck.
We cannot change the cards we are dealt, just how we play the hand ~ Randy Pausch
The first time I went, I found the Three of Spades. Great, I thought to myself. Just wonderful. The next time I went I found two Three of Spades! What are the odds of that? Why, I asked myself. The third and last time I went, I found eight cards…two short of a Celtic Cross spread. The spread began with, yes, you guessed it, the Three of Spades, and ended with the Three of Clubs. The cards in between were all Clubs and Spades, with a Jack thrown in for good measure… as if I didn't know already.
One person in this relationship is out of love. And they feel terrible and they don't know how to handle it, but they are. There is a lot of guilt feelings going on here. And so much denial, it hurts me.
The last two cards were not around. It was not a complete spread. The Universe had no real opinion, since this was an ego driven event and the outcome, obviously, was up to them.  The question is, can they survive as a couple? Do they both want to? The answer, not so clear to see.
All I know is, the Universe sees us all, all the time. And I find that a comfort. I think that the fact that I don't have to know everything is a huge relief. It frees to me to cherish The Experience itself. And that's what's we all need to learn to do.
About The Author: Asherah

Asherah is a natural born psychic empath born and raised in Kingston Jamaica. An ordained Reverend and High Priestess, Asherah can easily tap into your real truth and help you to see clearly, releasing attachment to outcome by simply focusing on where you are now. Using tarot, numerology astrology and more..you can learn how to communicate your needs today! You can get a psychic reading from Asherah at PsychicAccess.com.


This site uses Akismet to reduce spam. Learn how your comment data is processed.