Going Back To School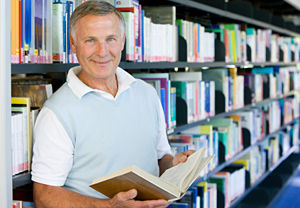 At the beginning of this year I did not realize how much my life was going to change. So many times over the years I have told clients that you never know how life can change when a blinking of an eye. Well, that is exactly what happened to me too.
On the last Friday of February 2012 I lost my full time job and they made me retire. I was very shook up, because it was very unexpected and I gave them 27 years of dedicated service. Suddenly, I was on the side of the fence, where many of clients have been who call me to ask what is going to happen in their lives.
How was my life going to pan out? As a psychic we usually see with clarity for others, but not for ourselves. It was time to reflect on my future; what I needed to do and where I was going. I knew in my heart for the longest time that this day was going to come, and I needed help to see what was going to happen. I asked God to show me ways in my life that I never seen before and one thing that came up was I needed to go back to school.
A great deal of talent is lost to the world for want of a little courage.  Every day sends to their graves obscure men whose timidity prevented them from making a first effort ~ Sydney Smith
So, I talked to my wife about it. My biggest fear about returning to school was my age – I had just hit 50! I had just applied for my AARP Card back in March. My wife told me, "Don't worry, everything will be fine!".
Well, being retired had shown me that I can focus on the use of prayer and my spirit guide. Why not rely of the help of my spirit guide in the class room? Initially it was very difficult to go through those doors not knowing if everything will work out. I can remember this as if it was yesterday. When I walked in I was not at all nervous. What was funny was that I was the same age as some of the teachers.
When the time came to start buckling down there was some aspects of the work that was overwhelming, but I asked my spirit guide to help me; to make me see things more clearly where I can not only understand them but to do better with it. To be honest, I wanted my spirit guide to jump in and really take over, but like anything else at that time she wanted me to see things for myself and to learn from them.
My guide wanted me to learn from my mistakes and use my mistakes like the Queen in a game of Chess. The Queen has every opportunity to move any direction, in the same way we can go any direction in our lives.  I trust that my spirit guide will not let me move in the wrong direction. So, now I look at it more positively, with the help from others and my spirit guide. I took my power back and regained control of my destiny. Things are going well at school, and today is the first day of the rest of my life.
About The Author: Raymond

Growing up on the streets of Columbus Ohio, Raymond learned at a very young age that he was gifted in many ways, including the ability to read someone's eyes and using a regular deck of playing cards to read the future! His mother was from a Native American family, namely the Black Foot tribe, and his father was German. Raymond discovered that both sides of his family had a psychic legacy. Over the years he has gained additional knowledge from books and by talking to trusted family members. Raymond has been doing psychic reading for others for over 3 decades, and over the years he gained many loyal clients from all walks of life. Visit Raymond for a reading at PsychicAccess.com