Take A Chance On True Friendship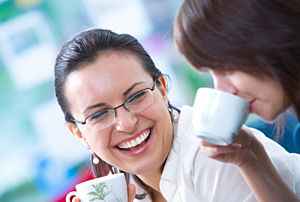 Have you ever made the wrong choice in life, based on negative past experiences, which then kept you from enjoying new, wonderful experiences, meeting new people or learning a new talent or skill?
To really be free we must allow ourselves to let go and, like the Beatles song goes, just 'let it be'. Replaying the past over and over in your mind is just useless and counter-productive.
I normally don't open myself up easily to becoming friends with other people. I work with people all day, so that is how I get much of my social enjoyment. I love to help people and my work is pretty much my family. I feel very connected to my regular clients as they tend to be the most open-hearted people.
In life I haven't been so lucky, as many people are just not open to the alternative opinions, lifestyles and the beliefs of others; sometimes they are completely closed and narrow-minded.
If instead of a gem, or even a flower, we should cast the gift of a loving thought into the heart of a friend, that would be giving as the angels give ~ George MacDonald
Recently, I took a chance on a new friendship outside my work life, and I am very blessed to say that it reminded me that it's okay to let the walls down so sometimes, and not to worry about stepping on toes or feeling like you have to walk on egg shells. I guess you just need to be smart about your choices. I have always been drawn to laid-back people, who have a good sense of humor.
I must say that my new friend came in to my life at just the right time. Sometimes, after we have been hurt, let down, lied to and simply 'backstabbed', we tend to hold friendship at arms length. But to really have a great conversation with someone, who has the same ideals and values and passions as yourself, can be very healing and liberating. Best of all, they say friendship and social support keeps you young and helps you to live a long, healthy life!
A true friend unbosoms freely, advises justly, assists readily, adventures boldly, takes all patiently, defends courageously, and continues a friend unchangeably  ~ William Penn
I always go by 'less is more' and therefore I opt for quality, instead of quantity, when it comes to friendship. I see on some online social networking sites, such as Facebook and MySpace some people tend to be 'friend collectors'. I always wonder why? What are they trying to prove? I feel life would be very chaotic if you really had that many people in your life, or you will be consumed with guilt because you could not possibly stay in touch with that many people, and be a true friend to all of them. You just cannot have a real connection with that many friends.
I guess you could say that I have a feng shui approach when it comes to friendship. I would much rather have just one really great friend, who has as little free time available as I do, and who wants to spend that precious time having a great conversation once a week at lunch…to just share, laugh and reflect without any drama or craziness. That is just priceless and so very 'quantum'. I love it!
About The Author: Moon Goddess

Moon Goddess is a third generation empathic healer and seer. She started to give healing readings to people more than 20 years ago. She has always been interested and studied all things metaphysical from a young age. Being hypersensitive she can feel and see things before they happen. Utilizing the Tarot, and with the help of her Guides, she is a source of support for many people all over the world. After he passed over, her grandfather kept his promise and came back to say goodbye and gave her the most amazing experience. Moon knows there truly is a Heaven, and it is wonderful! Sharing her experience has helped many people after they have lost someone, or anyone experiencing some form of grief. Get a reading with Moon Goddess now at PsychicAccess.com.