There Are No Clocks In The Spirit World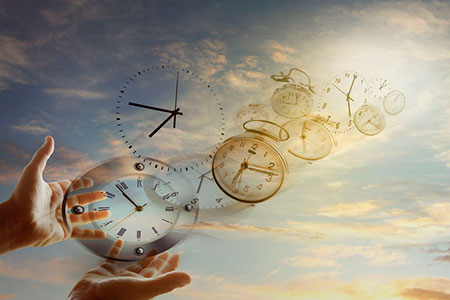 I attended a lecture at the Arthur Findlay College of Psychic Research in the United Kingdom many years ago, during which I recall the speaker saying, "There are no clocks and watches in the spirit world."
He explained further that those of us who do psychic readings must bear in mind that as much as our spirit helpers do their best to give us some indication of time-frames, timing can actually be very tricky.
He also emphasized how we tend to get obsessed with time in our world. While we are constantly racing against the clock, our 'inner states' change over time. Sometimes, we may feel that we are beating the clock, and it feels empowering for a while, but there often comes moments when we wish we had more time to 'just be' and to feel connected to the very source of our being. To truly feel the state we are in.
When we are fully aware of the state we are in, for example the beginning of depression, we are able to process it and deal with it, instead of 'chasing our tails' until our mind and body eventually forces us to stop… and really feel the discomfort!
More importantly, when we return to the spirit world one day, our environment there will not be determined by time, but by the state we are in when we leave our current physical body.
The two most powerful warriors are patience and time ~ Leo Tolstoy
The words of the late Wayne Dyer, "You will never get everything done," have stuck with me from one of his CDs, that I used to play in my car. I used to often repeat those words to myself, whenever I just didn't feel like I was catching up quickly enough with projects and chores which demanded my attention.
Contrary to the so-called 'laid-back' lifestyle here in Spain, where I now live, things seem to have been speeding up for me lately. This is mostly due to the fact that I have been taking on additional opportunities, which I felt inspired to do. But I can certainly take some wisdom from the locals in their approach to making sure that I also have quality time for loved ones, friends, and all my animals.
There is a local gentleman, whom I have come to know quite well here in my town. He oozes 'old soul' qualities. So, I found it a little confusing recently, after years of repeating a mantra of 'you will never get everything done,' to find that my friend's perception of time is that there absolutely is enough time for everything.
His opinion makes so much sense, that is caught me off guard. So, I guess this is another life lesson for me. A lesson in patience, and in letting the Universe do things its own way and in its own time – in the mañana way of the Spanish.
My Spanish friend is a very busy man, but whenever someone needs help (including me), he has dropped his business and been there in an instant. I think he has a good point, when he says that there is time for everything. Despite being 'behind schedule' with some of the things on my 'to-do' list, I am still getting stuff done. Little by little, or poco a poco.
Time is the wisest of all things that are, for it brings everything to light ~ Thales
Our time in general, and particularly time for leisure, seems to be constantly gobbled up. There just never seems to be sufficient hours in a day. Perhaps it is true that time is speeding up? Several songs mentioning time springs to mind, such as Cher's If I Could Turn Back Time and Jim Croce's Time In A Bottle.
It is important, however, not to shelve our dreams and procrastinate on working towards them, because there are so many other pressing chores to be done. We can begin to change our lives right at this very moment, just in knowing that we are deserving of happiness, success and material comforts.
My best friend is an academic, and she once told me about an interesting study that was done on the most used noun in the Oxford English Dictionary. It was the word 'time.' She asked me to look around us, where we were sitting in her home, and observe in how many places the word time was relevant. It was surprising to discover that there was time on her microwave, on her grandfather clocks, on the digital clocks, as well as the TV. Not to mention on both our cell phones, and even on her washing machine, which happened to be running at the time.
How time flies when we are doing something we love, or simply hanging out with those we love. Yet, it can become such a drag when we are bored or unhappy. In order not to be dominated by time, we must focus on our current state of being.
You will never find time for anything. If you want time, you must make it ~ Charles Brixton
My Spanish friend wrote down his thoughts on how he tends to remain in a 'serene state' amidst his busy workload, and constant pressure from his customers, in order to give of his time to others:
My mind is constantly active. I am aware that worrying isn't going to resolve anything, but will simply make me tired. I like to keep my life as simple as possible. My biggest pleasure is in helping others when I can. I love life, despite the curve balls and deceit I have experienced in my past, I don't hate anybody.
As for myself, I now try and take the middle path in knowing that I am not going to get everything done at once. I know now that it is self-loving to both take time out for myself, and to pursue my dreams today, because if I put off pursuing my dreams until the 'to do' list of other things is completed, my personal dreams will be unlikely to manifest.

About The Author: Shani

Shani is a qualified practitioner in Reiki, aromatherapy, reflexology, body spin, and animal telepathy who received psychic development training at the Arthur Findlay College of Psychic Research in England. A published writer, her articles and predictions have appeared in several respected magazines and on psychic websites, and she has read for many celebrities and even heads of state in Africa. Though she was born in London, Shani has traveled the globe and has studied the art of African Mysticism, bringing her unique flavor to those seeking her incredible talents. Get a reading with Shani at PsychicAccess.com.