How To Avoid The Sunday Blues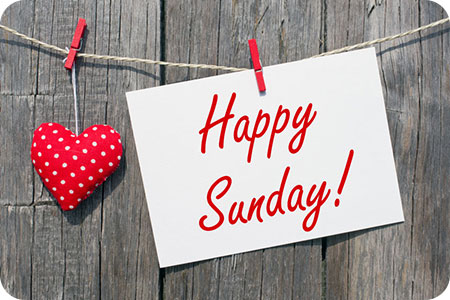 I am sure you can easily picture the following scene. Your weekend has been somewhat action-packed. You have had your night out with friends, been for a meal with the family, and perhaps had a couple of hours at the gym on Saturday morning. The weekend was awesome, until Sunday evening arrives. Then your mind turns to what the week ahead could have in store for you…and your mood suddenly change for the worse.
If you suffer from what is known as the 'Sunday blues,' then it is essential you look at what you can do, from a practical point of view, to make the first day of the week far better than you may currently be experiencing it.
It is imperative you begin by looking at the actual reasons you dread your Sunday evening, and having done so, focus on what you can do about it. Get ready to take some action!
Focus On Your Strengths
Finding your strengths can help you to enjoy a happier Sunday and hopefully keep the rest of your week ticking over positively. For example, I came to recognize I needed to develop my strength of prudence to plan my days more wisely. So, I these days I draw up a fortnightly time-table in which I incorporate a daily exercise regime, my working hours, any appointments I may have for the two weeks, and, yes, even some family and 'me' time. Furthermore, I make sure that this time-table is completed by Friday evening, every two weeks. That, in itself, has taken a lot of stress out of my Sunday evenings.
Do not let Sunday be taken from you. If your soul has no Sunday, it becomes an orphan ~ Albert Schweitzer
According to the experts we all possess 'signature strengths.' Finding out what these are, allows us to develop them even further – not only to help solve our Sunday sorrows, but to rise above everyday challenges as life presents them.
Ask yourself what your strengths are. You do have them! Perhaps you, like me, have a dry sense of humor? Mine is, I say, as dry as the wine that I drink! Nevertheless, if a good sense of humor is a strong point for you, then why not start a personal good mood diary, for example? You could do this by recording at least three things that made you smile during the week and then reflect on them on a Sunday evening.
Indeed, each one of us has our own reasons for experiencing the Sunday blues and yours may be far different from mine. Perhaps you are having a problem with a particular colleague, or experiencing job dissatisfaction, or just not feeling in a positive state? Whatever your reasons may be, you can draw upon your strengths to your best advantage.
Count Your Blessings
I must admit I have asked myself many on many occasions why I would have a problem with Sunday evenings… when I am successfully self-employed and love what I do? Nevertheless, the Sunday blues still kicked in for me around 5pm onwards, as I scrambled through my evening chores, while deliberating on what I had to do in the week ahead. This changed when I began focusing on having more gratitude and appreciation.
As I have my own home office, traveling to and from work is no longer an issue for me. Therefore, I remind myself frequently how fortunate I am to be in such a position. I also remind myself how I am able to incorporate some 'tiny treats' into my daily schedule, such as a gorgeous cappuccino with friends at the local café, before heading back home to my daily routine.
Perhaps you are a lover of nature and, if so, this can only be a good thing, because appreciating beauty is very often associated with one's emotional well-being. So, why not take a well-earned walk in Mother Nature, followed by a healthy meal and glass of wine once you get home.
Sincerely, these very small acts alone should have you looking forward to your Sunday evenings, rather than being challenged by them! It is the regular lifting of the spirits, I feel, that helps us to feel good on an everyday basis. And yes, you too can start this today!
Sunday is a time when you sit back and reflect on all the blessings that you have received. Smile at all the good things that you are enjoying ~ Sera Train
Reflect On The Past
Reflecting on the past can be another great way to change your Sunday mood. Why not take a look back at your previous Sundays to see where they went wrong and how you could turn future Sundays around? By doing so, it should help to both empower you and increase your sense of confidence that next Sunday will be better!
Reward Yourself
You would be wise to use your Sunday evenings as the time for a little self-investment or 'me time.' For example, why not take a warm bath with some uplifting essential oils added? Read your favorite book, or go for a spa massage (yes, more spas are opening on Sundays now). Or just enjoy some quite time. Whatever you do, please practice some self-kindness in the process.
Plan Your Week
Aim to have your to-do list ready, emails tagged and appointments and necessary plans all scheduled by Friday evening, then see how better the weekend feels, knowing you have a plan of action all ready for Monday morning.
Switch Your Saturday
Most people tend to spend their Saturdays socializing and engaging in fun and entertainment, whereas Sundays are reserved for more mundane or more serious tasks. Why not swap it around and do on a Sunday what you normally would do on a Saturday, and see how much longer your weekend feels!
Ritualize Your Sundays
Make your Sundays different by organizing a new routine for yourself. Perhaps you want to try a new exercise class or make it a family entertainment evening?  Either way, once this becomes a habit, you will find your Sunday evenings are more of a treat… than a dread!
By now you must understandably be asking what is the psychic slant on all this?  Well, the simple answer to that is the more of a positive state we put ourselves in, preferably at the beginning of the week, the more it will help us to attract more positive people, events and circumstances to ourselves as the week progresses. Why not try it and see?

About The Author: Lucinda

Lucinda is a highly trained Intuitive and Empath, living in a beautiful village in North Yorkshire, England. She possesses the rare gift of understanding a client's personal pain and has been through many challenges, herself, which has only made her stronger! It is both her calling and her happiness to help those in need. And whenever she needs a little help herself, her Guides are always there to assist in her development and provide clear interpretations for her clients. Prediction has always been a great tool she could count on to accurately foretell events, but Lucinda also draws on her expertise with Dream Interpretation, Numerology, Angel Cards, Law of Attraction and Life Coaching to provide full and detailed solutions to any problem. A member of AMORC and Beyond Freedom Evolution, she provides inspiration, education and personal support for spiritual development. If you'd like answers or want to attract your desires, you can find Lucinda at PsychicAccess.com.


One Response to How To Avoid The Sunday Blues