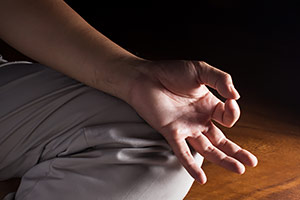 I often have clients ask me, during psychic readings or in Yoga class, how they can develop their own intuition?
It is generally accepted that meditation is one of the most effective and powerful methods to develop psychic ability and increase intuitive awareness.
I usually share with my clients and students a Kundalini Yoga meditation technique to stimulate the life nerve in the shoulder. This helps you tune into your own intuition and increase your psychic awareness.
In this exercise the arm is used as an antenna to pull in energy to the heart chakra, or fourth chakra, and the third eye, or sixth chakra. It is a powerful meditation for psychic development:
Regular meditation opens the avenues of intuitional knowledge, makes the mind calm and steady, awakens an ecstatic feeling, and brings the practitioner in contact with the source of his/her very being ~ Swami Sivananda
1. Sit in typical meditative pose on the floor with your legs bent.
2. Place both hands in Gyan Mudra by touching the index finger and thumb together, like the "okay" sign. Extend the three other fingers to a straight position.
3. Rest your left hand on your left knee, arm extended.
4. Extend the right arm straight up so the hand is over the shoulder, hugging the ear.
5. Close your eyes. Roll the eyes up to the brow point as if you are looking at something on the forehead, with your eyes closed.
6. Continue with long, deep breathing through the nose for eleven minutes. If eleven minutes is too hard at first, start with three minutes and work your way up.
7. Trust the thoughts, colors, visions and words that come to you during this meditation.

PsychicAccess.com.


Satya lives in Northern California and is a natural Clairvoyant, Empath, Conduit, teacher, author, animal lover, healer, Reiki Master and an advanced yoga instructor. She has provided valuable psychic assistance to Hollywood stars, athletes, and everyone else in-between. A multi-layered Intuitive, with many unique gifts at her disposal, she can give you a doorway into the past as well as a gateway to a happier future. With her long distance energy work, she provides healing for people and animals too! She instantly spots karmic connections from past lives that directly affect current situations, helping clients to move through them quickly. For accurate solutions on just about any pressing problem, you can find Satya at