When The Time Is Right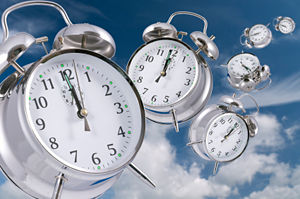 Most psychics find it almost impossible to read for themselves or for friends and relatives. It is difficult to remain objective in readings for people who are very close to us. It is therefore common practice for psychics to read for each other when the need arises.
Ten years ago my psychic mentor and I were trading readings. During my reading she told me I would one day have to choose between two men. Of course, I am like everyone else and I wanted to know when it would happen?
As a professional psychic reader I knew from personal experience that the prediction of the timing for events is really hard to do. But I still wanted it to happen right then and there! I was less experienced then and obviously had a lot to learn. I don't have patience at all, but sometimes in life you are made to learn important life lessons.
No road is too long for him who advances slowly and does not hurry, and no attainment is beyond his reach who equips himself with patience to achieve it ~ Jean de La Bruyere
It has taken ten years, but my mentor's prediction has finally happened. Yes, a decade later these two men are finally both in my life, just as she had predicted.
Over the years I have been encouraging my clients to be more patient, but now I have also learned this important lesson myself. Don't give up on someone or something just because you don't get it right away. Stay positive, be patient and trust that you will receive when the time is right. Spiritual time is very different from physical time. Just because it doesn't happen right away does not mean that it is never going to happen.
About The Author: Mystic Shelley

Mystic Shelley is a Psychic Medium. She has been reading for over 15 years helping and guiding people. She uses my 8 spirit Guides during her readings. She reads in the area of love, relationships, career, money and all matters of love. She will give you only honest and direct answers. Get a reading with Mystic Shelley now at PsychicAccess.com


One Response to When The Time Is Right