Replace The Naysaying With Faith, Courage And Hope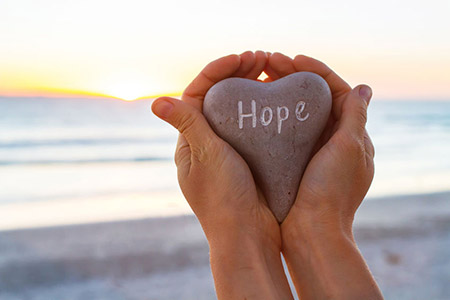 The world has come to a standstill, as we navigate through the COVID-19 pandemic. Many of us are in still shock that a microscopic virus could pose such an exponential risk that it is now altering our entire way of living.
Some of us have also become paralyzed with fear, overwhelmed with thoughts of how our lives might be forever altered. I too have had my moments, when I have felt that the latest news headline was just one too many!
I have heard a lot of deep concern from people in recent weeks, especially over health, safety and economic outcomes. I have been advised by well-meaning friends, for example, not to make any major life changes and to put on hold significant endeavors, because the economy might not ever recover. I was even warned by a well-meaning neighbor not to venture out too far from home, because of the threat of getting hurt and needing to be transported to the nearest emergency room, where I could then contract COVID-19 and possibly never recover.
Unfortunately, we do live in a world that tends to replaces the concept of hope with just the opposite. Therefore, with the best of intentions, these naysayers have chosen to focus only on gloom and doom. I don't mean to dismiss the tragedies some of us might be witnessing up close, or from afar, as they are very real and deeply painful. But I am also making a huge effort to hold on to hope.
For example, when people suggest that there won't be a cure for the virus, I remind them that our collective health is in the custody of the Divine and that life will continue to thrive on this planet, under the protection of Spirit. Without any doubt, I believe there will be a cure for Covid-19, whether via a scientific breakthrough or herd immunity.
Naysayers have little power over us – unless we give it to them ~ Arianna Huffington
The latter is a very important public health term that carries a plethora of meanings. Most commonly, you can think of herd immunity as indirect protection from infectious disease, that manifests when a sizable percentage of our population becomes immune to infection, whether through previous infections or vaccination, thus providing some protection for those who may not be immune.
Historically, there were many major diseases and plagues within various monumental texts, some even outlined within sacred scriptures.  During the last century, we've experienced periodic epidemics and outbreaks, such as Rubella, Measles, Mumps, Polio, and various strains of Influenza.
As a child, I grew up hearing the stories of the elders, describing how entire communities were impacted by the Spanish Flu, a dangerous strain of influenza that infected 500 million individuals around the world from January 1918 to December 1920. Some of these elders disclosed that their grandmothers kept the fires burning through the pandemic, to ensure that loved ones remained safe and cared for.
In recalling these memories, one thing is constant: the elders taught us that they never gave up hope. And although they have all since transitioned from this life to the next, I remember most about them the passion and courage that fueled their lives, and the powerful legacies they left behind. Some were dreamers who pushed down racial and economic barriers. Some were healers who spoke the language of plants. Some created bridges and opened doors for others. Each one reminded me to be steadfast and to hold strong to faith and hope, no matter what!
I would like to remind you that no matter how tough times may appear to be, you must never give up hope, as this too shall pass. Each of us has the inherent ability to replace the suggestions of all the naysayers with hopeful, positive thinking.
When people undermine your dreams, predict your doom, or criticize you, remember, they're telling their story, not yours ~ Cynthia Occelli
Our thoughts are like superheroes. They have the power to leap tall buildings in single bounds! After all, it was our thoughts, inspired by Divine Mind, that conceptualized, designed, built, and occupied magnificent skyscrapers from New York to Dubai. During our toughest periods throughout history, we have managed to move our world forward, creating change where needed, and bringing healing to entire generations, through humanitarian care and medical breakthroughs. There is nothing in the here and now stopping us from doing the same at this critical time.
No matter how hopeless or bleak the situation may seem, I implore you to find your center, where the voice of the indwelling Spirit of the Universe awaits you. Take time out to cultivate mindfulness in your daily life and become aware of the Spirit within.
Know that spiritual leaders, including great medicine men and women around the world, are in continuous prayer for the healing of our planet. Allow the resonance of these prayers to rise above the repetitive mantras of the naysayers. You too can add your voice to this global cacophony through mindful connection with the Divine, and by reminding your loved ones that there is an endless power that we can each access, to create change in our lives and in the world.
In closing, I would like to remind you to embrace healthy lifestyle choices at this time, to ensure that your immune system is optimally functioning. Remember that stress weakens immunity and that thought held in mind can manifest as a real event or action. Wash your hands often for at least 20 seconds with soap and water. Stay hydrated, be active at home, practice social distancing, and wear gloves and masks.
We are all superheroes with the power to collectively take down this pandemic. Let's replace the naysaying with some faith, courage and hope.

About The Author: Shawna

Shawna lives in the American Southwest and is a third generation Spiritualist and Clairvoyant. She recognized her own gifts at a young age, fully embracing her calling as a Clairvoyant, Medium, Spiritual Astrologer, Tarot Reader, Aura Reader, Water Reader, and Healer, training under the tutelage of some truly gifted mentors. Shawna utilizes her natural psychic gifts to help individuals navigate through personal challenges and discover the higher manifestations of their life paths. She's provided positive, spiritually responsible, and ethical readings in-person, over the phone, and online, and has read for clients in Los Angeles--at psychic fairs--and at the Crystal Gaze Spiritual Center, in Lakeland, FL. She is also a trained practitioner in Clinical Herbalism (University of New Mexico), Ayurveda Medicine (San Diego College of Ayurveda), and Reiki. Shawna has channeled messages for political leaders, celebrities, and has accurately predicted the outcome of national campaigns, as well as a big career opportunity for a talented actor that resulted in a Tony Award! If you'd like an enlightening and empowering, full-spectrum of guidance, you can find Shawna at PsychicAccess.com.