Choosing Love And Expecting Miracles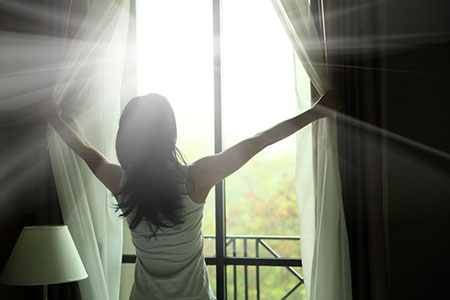 I begin each day with the affirmation, "I focus my attention on the love that is around me, and I expect miracles." After saying this affirmation of faith, I step back and watch the many miracles of the day unfold.
I learned this, and many other spiritual techniques, from the author and speaker, Gabrielle Bernstein. The daily result can be as simple as coming across a favorite book in a second hand shop, knowing it is Universe's way to tell me that it's time to read it again… or realizing that I hit every green light on my way home!
When the Universe blesses you with such miracles, big or small, it's important to say thank you. Your relationship with Universe should always be an ongoing conversation, in the same way you would with a close, loving friend. Connecting with the Universe daily, is the key to receiving these miracles.
If you want to be on a powerful spiritual path, meditation is the best way to get there. Even if you have to start by sitting silently and simply listen to your breathe for a few minutes, you can begin to feel the benefits almost immediately. Continued meditation can lead to amazing miracles in your life, and also offers you less stress, reduced chance of depression, calmer mind, and the ability to have successful relationship.
I argue less with my husband since I started meditating, for example, and our relationship has grown stronger (another miracle). In times of crisis I have also been able to reduce my stress significantly, compared to what it used to be before I chose to meditate (another miracle).
Miracles happen every day, change your perception of what a miracle is and you'll see them all around you ~ Jon Bon Jovi
When I get bombarded with work, that seems unreasonable for one person to handle, I no longer throw my hands up in disgust and complain to my boss. I simply do the best that I can, and let her know if I am feeling overwhelmed, but still learn and grow through the process.
By being connected with the Universe, I recognize that obstacles in my life are there for a reason. They serve as temporary detours that ultimately will bring me to find deeper meaning and personal growth.
Knowing that your meditation and prayers are making your life run smoother, makes you want to continue this connection even more. When I am in the groove with this lifestyle, everything else seems to fall into place and my dreams become more easily attainable. When I am out of the groove, it's like I've turned onto a very bumpy road… and the path ahead is no longer clear.
A miracle is an event which creates faith. That is the purpose and nature of miracles ~ George Bernard Shaw
Whenever I do feel disconnected or lost, I recite this prayer to get back into the flow, "I witness that I am out of alignment with my power. I choose to see peace instead of this." By saying this short prayer, I am stating my intentions to claim back my power, restore my awareness, and realign my connection with the Universe and all the miracles it has in store for me.
Anyone can benefit from this hidden power we all hold,. It is available to you right now. All you have to do is choose love, spread light, and know that the Universe always has your back.

About The Author: Amy

Amy resides in Arizona, but through her extensive travels, she has accumulated much knowledge and love for other cultures. She is a member of the Southwest Tarot Readers Association and follows her local Arizona chapter of Astrology. Amy has been a featured guest on metaphysical radio shows, she's provided readings at conferences and corporate events, has delivered lectures on developing your own psychic abilities, and she has shared her expertise on Tarot and Astrology, having earned her certification in both disciplines. Amy grew up seeing orbs and feeling energies but brings over twenty years of practical experience to the table as an accurate Psychic, Tarot Reader, Astrologer and Medium. She has read for hundreds of clients, including one very high-profile crooner! She is always expanding her metaphysical tool belt, offering her clients many delights on her magical menu, including channeling, dream life interpretation, crystal healing, and past life exploration. If you'd like a powerful reading that will also empower you to lead a happier, more rewarding life, you can find Amy at PsychicAccess.com.