Abundance – A Message From My Guides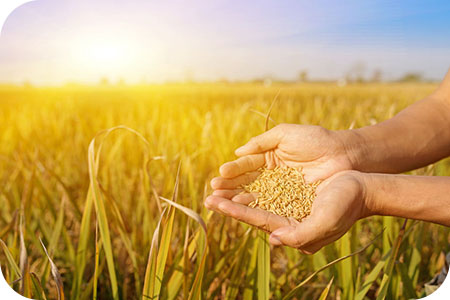 Nature thrives with abundance. Notice the number of pine cones, acorns or maple keys that just one tree yields. Turtles and fish produce dozens of eggs to ensure survival. There are millions and millions of examples of abundance in nature.
Abundance is your natural state as well. Even in times of hardship, it is important to understand that there is enough for all. One need not do without in order for someone else to have their basic needs met. In addition, when you thrive, you are not preventing anyone else from achieving their highest goals.
It is incumbent upon each of you to create the world in which you wish to live. Some people are born with the proverbial silver spoon in their mouths and manage to waste everything they have been given. Some people are born into poverty, yet grow to inspire millions and effect change in the world. Regardless of your position on Earth, you can create an environment of abundance.
First, it is important for you to determine what abundance means to you. Is it wealth, health, family, friendships, a committed partnership or perhaps a combination of these and more? Once you have determined what you are dreaming about, it is important to solidify your thoughts by putting them into goals.
Visualize your desired outcome in each of the categories you have identified. Show up to help make things happen by taking small steps to get started. Make a phone call. Do some research. Join a group. Take a class. Help a neighbor. Comfort a friend. Persevere and you will see your environment start to change and improve.
The abundance of life is unlimited, it expands with the generosity, compassion, inventiveness, and service that you contribute ~ Jonathan Lockwood Huie
Meanwhile, live in gratitude for what you do have. Be thankful for the relationships you enjoy, the accomplishments you have achieved, the decisions you have made and the opportunities that have come your way so far.
Find joy in the simple things in life. Create happiness for others. Become a beacon of light, regardless of your present circumstance. Act as a role model. Inspire those who cross your path. Laugh more and worry less. Stay focused on your future.
Do not set limits on yourself or your dreams. Reach higher than you ever thought possible. Step out of your comfort zone to welcome new contacts and opportunities. Say yes to excitement. Embrace change. Believe in your strengths and others will too.
Surround yourself with supportive people. Listen to positive motivators. Read uplifting material. Watch inspirational speakers. Believe in your personal power with every ounce of your being.
Abundance is a form of gratitude, a generosity, a modesty, a bow toward others what we can give, what we can share, rather than what we can take ~ Terry Tempest Williams
Do not buy in to the negative comments of those who would look to discourage you. It is easier for some people to bring others down to their own level than to attempt to raise their own standing. Some people live with the fear of failure. Some people are afraid of success. Some do not want to put in the required effort. You might need to limit your exposure to negative influences.
Ultimately, when you are surrounded by abundance, there is no need to brag or flaunt what you have. Stay humble. Stay grounded. Pay it forward and help others to achieve what they want or need. Even more abundance will flow your way as you help other people to grow and prosper.
Sleep well. Dream big. Take small steps toward the optimum results you desire.

About The Author: Monica

"What you think about, you bring about; what you believe, you become." This is Monica's philosophy, derived from her twenty-five years of experience as a Clairvoyant, Light Worker and Medium, living in Ontario, Canada. Monica has been a guest speaker at various Spiritualist churches, conveying Spirit greetings and messages from loved ones during Sunday services, All Mediums Nights, Healing Services, Meditation Services and special fundraising events. She's been an advisor to several international business leaders and connects with all of her clients on a level of love light and empathy. She delivers messages containing ideal outcomes and positive solutions with the help of her guides. If you'd like Monica to help shape your destiny, you can find her at PsychicAccess.com.


One Response to Abundance – A Message From My Guides