Dare To Find Your Way Again!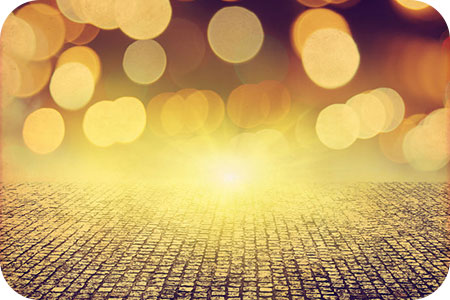 Why should there be a yellow brick road? The answer is simple: everyone should have a personal path to Oz.
In the classic movie, The Wizard of Oz, after losing her way home, Dorothy was advised to follow the yellow brick road. Along the way, she was given a pair of beautiful ruby slippers. She was also cautioned not to remove these special shoes and not to lose sight of the yellow brick road.
There were times when Dorothy threw caution to the wind and walked away from the path. I recall watching scenes from the movie and holding tightly to the edge of my chair in anticipation of the perils faced by Dorothy. There was the Wicked Witch of the West and her army of dutiful, misguided monkeys. There were wind storms and spells in which day was cast into night. There was even a cranky old man who pretended to be the omnificent power of the Universe.
Much like Dorothy, each of us has faced difficult times in our lives when we have found ourselves without direction and far from home. Some of us have even forgotten where home was, while some never want to return. But within the metaphysical context, home is akin to the center within each of us that is the dwelling place of the soul, which links us to our life purpose and mission.
There are times in life when circumstances can leave us completely off-center and out of touch with who we truly are.  Frazzled and anxious, we become disconnected from our personal source of good. Some individuals have a very difficult time bouncing back from these periods of severe testing and crises, and before they are aware a deep spiral sets in. Even the most focused of us can sometimes lose our way.
It is the set of the sails, not the direction of the wind that determines which way we will go ~ Jim Rohn
The role of the psychic is to guide others honorably through the storm directly to the yellow brick road, just as Glenda the Good Witch did in the timeless classic about Dorothy and Oz. Also, let me remind you that each of us has our own pair of ruby slippers that are akin to personal will, inner strength, the ability to dream big, the drive to survive, the impetus to win, and good old-fashioned faith and desire..
Have you lost sight of the yellow brick road that leads to your personal space of power? There is no shame in this temporary loss, as many of us have lost our way at one time or another.
Also, are you wearing your magical slippers or have you cast them aside? Are you nurturing your dreams even in the face of the seemingly impossible? If any of these questions brings uncertainty, I encourage you to take a leap of faith and reach out to a spiritual counselor or psychic advisor. You won't regret investing the time in getting a reading.
Your special road to happiness, success, prosperity and love is within reach, and your ruby slippers, custom-designed for your unique needs, are waiting. Just like Dorothy, you have the power to bring to fruition the seemingly impossible, and guidance is close by to reunite you with your purpose and the dwelling place of your soul. Dare to find your way again!

About The Author: Shawna

Shawna lives in the American Southwest and is a third generation Spiritualist and Clairvoyant. She recognized her own gifts at a young age, fully embracing her calling as a Clairvoyant, Medium, Spiritual Astrologer, Tarot Reader, Aura Reader, Water Reader, and Healer, training under the tutelage of some truly gifted mentors. Shawna utilizes her natural psychic gifts to help individuals navigate through personal challenges and discover the higher manifestations of their life paths. She's provided positive, spiritually responsible, and ethical readings in-person, over the phone, and online, and has read for clients in Los Angeles--at psychic fairs--and at the Crystal Gaze Spiritual Center, in Lakeland, FL. She is also a trained practitioner in Clinical Herbalism (University of New Mexico), Ayurveda Medicine (San Diego College of Ayurveda), and Reiki. Shawna has channeled messages for political leaders, celebrities, and has accurately predicted the outcome of national campaigns, as well as a big career opportunity for a talented actor that resulted in a Tony Award! If you'd like an enlightening and empowering, full-spectrum of guidance, you can find Shawna at PsychicAccess.com.