A Bird In The Hand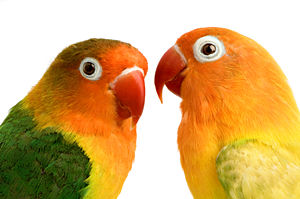 Being a psychic reader for over thirty years, I am still sometimes surprised by the questions some clients ask me.
A few years back a friend of mine asked me if I could do her a special favor. She had these two birds that were like children to her. They were very sick and she asked me to do a reading on them.
I had never done anything like this and honestly told her so. I did not consider myself a pet psychic at the time. But she insisted. She was very, very concerned about these two birds. The vet called her earlier and told her that he really believed that there was no chance for either of the birds to survive the night.
A bird in the hand is worth two in the bush ~ English Proverb
To be honest, I was really stumped at that time. But then I had an unusual vision. I had this flash in which I saw Jesus himself taking one of the birds in the palms of His hands. He then took a deep breath and literally blew life into the bird's body.
At the time you could knock me over with a feather. I was shocked and surprised and utterly amazed by the clairvoyant message I had received about these two humble little birds. But I had no doubt. The vision was very clear; it was as if I was looking at a very short and very vivid movie clip in very slow motion.
Look at the birds of the air; they do not sow or reap or store away in barns, and yet your heavenly Father feeds them. Are you not much more valuable than they? ~ Matthew 6:26
It took me a moment to regain my composure. Then I turned and looked at my friend and simply said: "Don't worry anymore; your birds are going to be just fine.
The next day she came to see me. She had this glow that I never seen with her before and she gave me this big hug. The vet had called her up and told her that her birds will be fine. He asked her to pick them up later that day.
About The Author: Raymond

Growing up on the streets of Columbus Ohio, Raymond learned at a very young age that he was gifted in many ways, including the ability to read someone's eyes and using a regular deck of playing cards to read the future! His mother was from a Native American family, namely the Black Foot tribe, and his father was German. Raymond discovered that both sides of his family had a psychic legacy. Over the years he has gained additional knowledge from books and by talking to trusted family members. Raymond has been doing psychic reading for others for over 3 decades, and over the years he gained many loyal clients from all walks of life. Visit Raymond for a reading at PsychicAccess.com


One Response to A Bird In The Hand