The Fallacy Of Being Perfect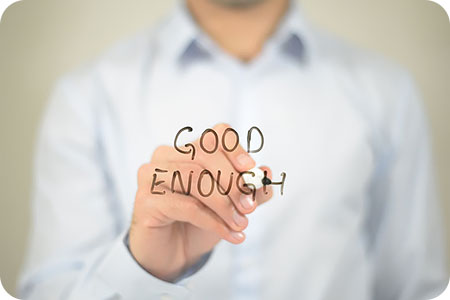 People who go around trying to be perfect, or aim to "live up to their maximum potential" seldom seem to be happy. Neither do they appear to be living fulfilling lives. Their constant striving to achieve or maintain perfectionism seems to take the joy out of their lives.
Spirit inspired this chain of thought in me as I remembered three psychic readings that I did recently. The theme of perfectionism and potential had a profound effect on all three of my clients' lives and or their loved ones. With their permission I am briefly sharing their stories here.
The first client called me upset, because she felt she had ruined their holiday stressing about wanting to make everything  perfect. Not only did she take the fun out of it for herself, but for everyone else involved.
I connected with Spirit and received this message for her: "Doing special things like making Easter eggs and cooking Thanksgiving dinner should be enjoyable. Some people will like it, and some people won't. Next week no one will remember. Learn to enjoy these activities more, and just go with ebb and flow. Spirit then  also offer tools she can use to help her relax.
Perfectionism is not a quest for the best. It is a pursuit of the worst in ourselves, the part that tells us that nothing we do will ever be good enough ? that we should try again ~ Julia Cameron
After sharing the message, she thanked me, and then paused for a moment. She became fairly emotional and told me that, when she was younger, she had always wanted to help her mom set the table and help to get things ready for the holidays. Her mother would freak out if the silverware wasn't placed correct and say things like, "No, do this over… it isn't perfect." She would snap at her for just wanting to be mommy's little helper. This had a lasting, negative effect on her as an adult and to this day makes it difficult for her to enjoy the holidays.
I'm happy to report that the guidance she received from Spirit has helped her to better manage her anxiety and holiday stress. She has since confirmed that she is now able to live more in the moment, and truly connect and bond with her children. Her life is happier and more joy-filled.
The second client was raised to believe she must marry the 'perfect guy,' which her parents had hoped she would meet at church. They constantly imposed their religious and relationship expectations on her, and the resulting depression has led to a downward spiral of pharmaceutical treatments that has lasted 30 years. She has been inundated with a rotisserie of drugs, each treating the side effects of the last.
She has become sleep deprived and sometimes delusional, because of the medications, and has a really poor quality of life for someone her age. "I'm  46 and have never been married. I just can't find my Prince Charming. Maybe he doesn't exist?" She was raised with unrealistic expectations and high standards of perfectionism, leading to disillusionment, bitterness, acrimony and a lack of self-worth. But with the guidance of Spirit, we are now working of changing this.
The third client's reading was one of the most difficult I've done in a long time. I did a mediumship reading for a lady who wanted me to connect with her son who had committed suicide… because he got an A-minus on a school assignment. Apparently he felt he had ruined his perfect grade point average and therefore his life was no longer worth living. He just couldn't bear to face his parents.
Perfection is a trifle dull. It is not the least of life's ironies that this, which we all aim at, is better not quite achieved ~ W. Somerset Maugham
She said she now knew it was because of their constant nagging for him to get good grades. She said they would keep reminding him how he wouldn't get the scholarship, and would therefore not make it into the college they wanted him to go to. At this funeral they expressed their remorse and shared their story publicly in the hope of ensuring that nobody else ever made the same mistake with their children.
During the reading, I connected with him, and continue to do so from time to time. He showed me his dog Koala and said that out of everyone he knew in the physical, his dog was his best friend and he misses him terribly. When I shared this with his mom,  she immediately said how Koala sleeps on his bed every night. Faithfully.
If there is a silver lining to this story, it must be the good that came from message she and her husband received from their son during the reading. "Please raise awareness," he said. "This is the best thing you can do. Teach other parents and everyone to not impose perfection on your children. There is nothing wrong with wanting to teach your children to strive, or try to excel, but just be realistic. No one is ever going to be academically or athletically perfect all of the time. Those who try to do this are often cheating themselves of joy and contentment along the way."
She called me yesterday and told me that this is now her and her husband's life work.

About The Author: Moon Goddess

Moon Goddess is a third generation empathic healer and seer. She started to give healing readings to people more than 20 years ago. She has always been interested and studied all things metaphysical from a young age. Being hypersensitive she can feel and see things before they happen. Utilizing the Tarot, and with the help of her Guides, she is a source of support for many people all over the world. After he passed over, her grandfather kept his promise and came back to say goodbye and gave her the most amazing experience. Moon knows there truly is a Heaven, and it is wonderful! Sharing her experience has helped many people after they have lost someone, or anyone experiencing some form of grief. Get a reading with Moon Goddess now at PsychicAccess.com.


This site uses Akismet to reduce spam. Learn how your comment data is processed.