Reunited With Crochet Friend In Spirit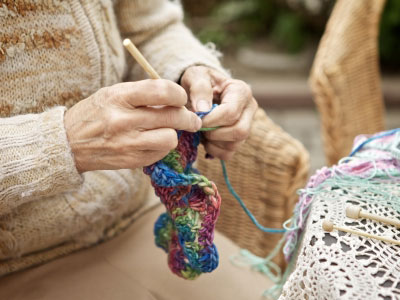 I like to frequent a well-known, local bookstore. It is my way of having peaceful fellowship indirectly with others. I don't have to talk to anyone, but the feeling of others around while I'm reading is a pleasant feeling. I always sit on the same chair, which is almost like a comfy love seat with others sitting nearby.
One day, while sitting there and reading, I noticed in my peripheral vision a lady to my left. She sat down on the sofa next to me.
She then looked at me and said, "I'm so sorry I didn't want to disturb you, but I think you may have known my grandmother. She attended the same church you went to."
I asked her which church she was speaking of and then confirmed that I had indeed gone there for a few years, but no longer attend.
Crochet gives me an inner peace that I treasure each and every day ~ Judith Ferrett
She shared with me how her grandmother passed away not too long ago and was wondering if I remembered her. She said that I definitely knew her and used to visit with her. Her relative would often knit and crochet in the lobby of our building, and she has a recollection of me helping her make baby blankets there for the newborn.
I immediately realized who she was talking about and told her that I was very sorry for her loss. Her grandmother was such a dear old sweet lady. She and I would exchange stories of our family and talk about the new little one that had just been born.
"Oh, so you must be the granddaughter who used to sing in the choir!" I then said. "Yes, I still do," she responded. "I will be singing this Sunday, in fact, and if you would like to come you are most welcome. There will be a new minister and I would love to have you come back for a visit."
I told her I didn't know if I would, but then I noticed a glow about her. Her aura had changed a bit and I felt her grandmother was near. I told her I would think about it, and then got up and gave her a hug.
Later in the week, as Sunday rolled around, I thought, why not, and decided to show up for the church service. Walking in, I recognized many of the congregation. I noticed everyone had gotten older and some of the children had grown up so much that I no longer recognized them. Many folks came up to me and remembered me from a Sunday school class I used to do during the summer. It was nice. I enjoyed it.
I think the highlight of the entire visit would definitely be watching the granddaughter sing. Her granny's spirit was there. She was sitting in the first pew on the right side of the sanctuary. She was knitting and had gotten up and walked to the space that was available next to me. She sat down and looked at me. She kept pointing to the bible in the pew, and I decided to lift it up, out of the place in which it rested. But she continued to point to where it had stood and as I looked down into the gap… lo and behold…there it was… a crochet hook!
If more people knitted and crocheted, the world would see fewer wars and a whole lot less road rage ~ Lily Chin
I couldn't believe it! It had been there all this time and if it wasn't for my going to this Sunday service, I would not have had this experience.
Later after visiting with the granddaughter, she told me she was visited by her granny many nights in her dreams, and she simply just followed her intuition to go that bookstore the day we met. She was so glad that she approached me. I asked her if she wanted the crochet hook and she said that she didn't crochet, but wanted me to have it, and also to come to her home later that evening, where she had a huge basket of crochet hooks that belonged to her grandmother, as well as some yarn. She wanted me to take care of it.
I thought that was so very kind. I found out later where her grandmother was buried and since then I have been visiting with her often at her graveside, where I also do a bit of crochet. She is always there. I can see her spirit and feel her presence.
The day back at that church made me feel like I had a spiritual church family again, even though I hadn't attended in so long. I decided to go back every once in a while. Whenever I do, I always notice her grandmother in the midst of faces.
It was so nice to be reunited not only with my church friend, who I had a common interest with, crochet and knitting, but also a wonderful, loving church family. No matter where we go, it is nice to know you can revisit and feel that warmth and welcoming feeling. Not all churches emit such welcoming love, but I was lucky to have connected with this wonderful church at a time in which I really needed that sense of community and fellowship.

About The Author: Moon Goddess

Moon Goddess is a third generation empathic healer and seer. She started to give healing readings to people more than 20 years ago. She has always been interested and studied all things metaphysical from a young age. Being hypersensitive she can feel and see things before they happen. Utilizing the Tarot, and with the help of her Guides, she is a source of support for many people all over the world. After he passed over, her grandfather kept his promise and came back to say goodbye and gave her the most amazing experience. Moon knows there truly is a Heaven, and it is wonderful! Sharing her experience has helped many people after they have lost someone, or anyone experiencing some form of grief. Get a reading with Moon Goddess now at PsychicAccess.com.