Sensitivity Is A Gift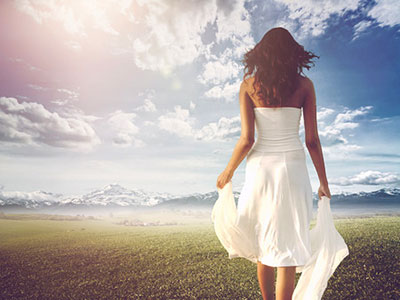 Sensitive people need to give themselves a break! I am very sensitive myself, and I consider it a gift. I wouldn't be able to have the kind of career that I have without being sensitive. For those of us that are sensitive, it can come as a mixed blessing sometimes. The same sensitivity that allows me to empathically engage with others in an intuitive way, can also be a detriment when I allow the circumstances of this work, or of others, overwhelm me. I must be constantly careful about what I view on Facebook, and read or see in the news.
I personally abstain from following the news for the most part. My world is what I am experiencing at this present time. If we were alive 200 years ago, rather than right now, we would be clueless about most world events.  However, these days absolutely everything is streamed into our conscious reality 24-hours a day, seven days a week. For those of us whose life purpose is tied in with sensitivity, it is unwise to partake in this media stream.
You must either learn to carry the Universe or be crushed by it. You must grow strong enough to love the world, yet empty enough to sit down at the same table with its worst horrors ~ Andrew Boyd
I am not sure why we tend to focus on the 'global bad.' If you really consider all of what takes place on the planet from day to day, the 'bad news' the mainstream media tends to portray is often isolated events that have no real effects on our personal lives. Rarely have we ever heard that peace has broken out all over the planet, but this too is a true statement. The glass can be half full, or half empty.
Relationships can also be a source of distress for sensitive people, especially for individuals that have a life purpose within the field of healing and intuition. It is important to remember that not everyone wants to be healed.
Recently, I was talking to a colleague about a situation with her mother. We had talked about her mother several times and she explained how difficult and distressing her relationship was on an everyday basis. This would often spill over into her work life and would even affect her clients as well. I had a few opportunities to meet her mother and her entire means of conversation is indeed very negative. She complained about everything. I also recognized that she had no desire to change this behavior.
About a week ago, I called up my colleague and asked her how her week was going. She was once again distressed about a situation with her mother and how her mother is going through a "crisis."  She even explained the crisis. She then started telling me about issues she was having with her clients, career, and finances.Her narrative and her mother's narrative about life had become nearly identical!
This is another important thing for sensitive people to recognize. If you let other people around you cause distress, it will ripple out into your own experience. If someone is catastrophizing and you allow yourself to empathetically align with their drama, it will only ripple out into catastrophic experiences for yourself.
As sensitive people, it is important to recognize where we are drawing our energy from. We can choose to align with the good and our experiences, for the most part, will reflect that alignment.
The real warriors in this world are the ones that see the details of another's soul. They see the transparency behind walls people put up. They stand on the battlefield of life and expose their heart's transparency, so others can finish the day with hope. They are the sensitive souls that understand that before they could be a light they first had to feel the burn ~ Shannon L. Alder
Fortunately, a few days later, my colleague called back with amazing news. When she finally decided to turn things around in her own mind, her life turned around. She recognized that she did not have to empathetically engage with her mother's negative stories anymore. When she chose to shift this alignment, she realized that she was choosing her own negative experiences and often blaming it on her mother. She also recognized that her mother goes from crisis to crisis by choice, just as she started the snowballing effect within her own life.
We have a choice to draw our energy from the narrative we have about the world around us, or we can allow ourselves to draw our emotional state from the Universe. Either way, wherever we are empathically resonating will ripple out as experiences for us. It is not our job to change others, however, when we begin to be moved by pure positive energy, maybe others will catch that wave too.
Sensitivity is a gift and when we use that gift to guide us, it can be a superpower that helps us experience more love, more joy, and more peace. When we primarily align with these qualities we will naturally alleviate the suffering of others.

About The Author: Cosmic Coach

Cosmic Coach (James) has mastered many techniques in his psychic practice to connect with the unique heart center of each of his clients. He is a Reiki Master of many traditions, who is adept at crystal healing, card readings, and delivering detailed messages from Angels and Guides. A Christian Minister, a teacher and an Energy Guide, living in Michigan, James is always expanding the base of his knowledge to broaden his reach and serve as many clients as possible. To experience a unique reading personally designed for you, you can find Cosmic Coach at PsychicAccess.com.