The 'Can Do' People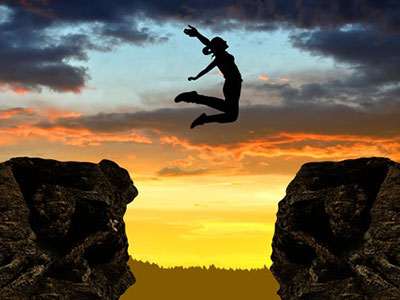 Some of us are 'can do' people, while others are always saying, "No can do." Who would you rather be? This has given me food for thought. What do I really tell myself about my own abilities? Can I really do what I want to do, or am I going to do whatever it may be?
Some people tell themselves that they are not smart enough to do what they want to do for their life's work. Their mind is already made up. No can do. They go through life accepting and settling for their second, or even third choice.
Others have the attitude, when told they can't possibly do something, they will show the world they can accomplish anything they choose to do. They believe they can achieve anything they put their mind too.
Positive attitude enables you to go with passion and see possibility in every challenging circumstance ~ Israelmore Ayivor
On the other hand,, some of us may become 'can do' people because we feel guilty if we don't do everything that is asked of us. This can become one's cross to bear. Guilt may cause stress, which in turn may cause disease… in the mind and body. It can weigh heavy on the soul.
Sylvia Browne said we must put the word "compassion in the place of guilt." Compassion means caring and understanding. Some people are part of a group or team, for which they don't necessarily have the time or skills to get the job done, and then they volunteer for everything that is asked. In these cases it is always better to rather be honest and say, "Sorry, but I just can't do that."
People actually respect those who do not take on more than they can do. When you volunteer for everything and only follow through with a portion of the task complete, you become known as a person who never follows through with things you have committed to do.
Some people also can't seem to remove from their life people, places and things that just don't serve them anymore. They get stuck in that  'no can do' space. It takes a lot of courage to look at our life and decide what to keep, or let go. It's all in the timing. What you do not let go today, may be just the thing you decide to let go of tomorrow. It is a good feeling when you can really let go of things that have become clutter in your life, or damaging your soul.
People usually like to be around the 'can do' people. The 'can do' people accomplish what they set out to do. Their example give others the courage to do things they never dreamed possible for them.
Believe in yourself, keep a can-do approach, struggle hard and watch success follow ~ Mustafa Saifuddin
That brings me to self-talk. Whatever a person tells themselves they can do, they can. And what we tell our self we can't do, we can't. I know a group of builders that call themselves The Can Do Guys. They all believed that no job was to big or too small to take on. They became a very successful construction company. I truly believe a group of like-minded people, that have a common goal and believe it is possible to accomplish, can do it.
Take a moment to think back on your life. Think about all the things you were sure you could not accomplish. How many of those very things have you accomplished in the meantime? Never say, "I will try," or "I can't." Replace those thoughts with, "I can" and "I will." You have had the power all along.

About The Author: Elizabeth

Elizabeth's talents go back several generations. She found her own gifts and embraced them at an early age, recognizing the difference between herself and most others around her. She's since honed and mastered many metaphysical practices, providing hypnotherapy, Psychic Mediumship, Mysticism, and Hypno-Reiki to her clients in Maine, and in areas around the US and in Canada, where she travels. A lover of pets, they are her greatest teachers and these unconditionally loving creatures often chime in on a reading in addition to the Angels, Guides and loved ones who provide resolution and answers for each of her clients. Elizabeth is also an author with much spiritual wisdom to impart and is currently working on a book. If you'd like to be a recipient of her unique Psychic Wisdom, find peace and receive answers that will also benefit your highest good, you can reach Elizabeth at Psychic Access.