When Tarot Cards Are 'Wrong'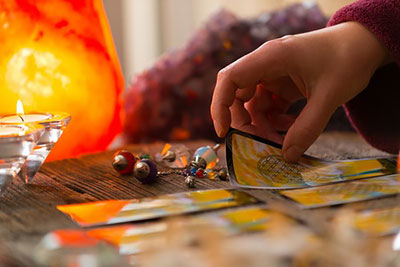 As a Tarot reader through many seasons, I have seen for myself where interpretation, listening to instinct and understanding the true meaning behind the cards makes for a better and more rounded reading. But perhaps the Tarot in and of itself will want to play tricks on you. This too I have seen many times!
People tend to misunderstand the Tarot, its meaning, and more importantly, its true purpose. It was never intended as a fortune telling tool per se. It can only be through careful study and a willingness to open one's mind and heart, that reading the Tarot can be truly successfully mastered. Yes, even to the point of predicting time frames – something clients love, of course, but which can be very tricky to predict. Reading the cards correctly and imparting correct advise is crucial when it comes to time prediction.
Divination is the quest to understand more about the past, present, and future. In other words, Tarot readings are an attempt to understand ourselves better and discover how we might live better in the future ~ Theresa Cheung
A preset rule I adhere to in my Tarot readings is this: if you ask for a reading, then you must be prepared to hear the whole truth, and nothing but the truth, so help me Tarot! As a reader I have absolutely no personal investment in your reading. I naturally want the best life for each and every client. I will never knowingly mislead you, or send you 'down the garden path.' The cards themselves… well, that can be another story.
This is where you come in as querent. Will you be doing as your reading suggests you do? Or are you going to be doing the complete opposite? The Universe is like a big eye in the sky – it sees all things. If you are lying to yourself, I have seen time and again that the cards are more than eager and willing to help you along that road to self-realignment. So, it is not that the cards are wrong, nor the reading or even the reader. It is imperative to ask yourself: what role am I playing in the future outcomes of my life?
I had a wonderful young lady as a Tarot client for many years. We would spend time apart and then come back together again. I loved her very much, but she never truly listened to the readings. She would even acknowledge that she had a problem. She moved way too quickly when she met a guy, for example. Within a weeks, or as little as just a few days, she would already secretly be planning the wedding. It was really harmful to her relationship life. Any worthwhile relationship needs to be given a chance to develop naturally.
Her readings would often reflect this trait, but never once would she listen to any warnings to slow down. In fact, she would move even faster and scare the guy away so quickly, both his and her head would spin. She would then get very impatient and even angry with me…as if it were my fault. But she never listened to sound guidance, and for whatever her reasons were, she mostly did the complete opposite of what her reading suggested she do. There is no point to that. All you do is go around in non-productive circles.
Remember that the Tarot is a great and sacred arcanum – its abuse is an obscenity in the inner and a folly in the outer. It is intended for quite other purposes than to determine when the tall dark man will meet the fair rich widow ~ Jack Parsons
I do not mean to imply things are always only the querent's fault. But, if someone doesn't listen to reason, what is the point? If a lay person getting a reading has their own concept, not only of what they choose to expect, but also their own card interpretations that they are bringing to the party, it will most likely never add up and never work. The cards will be 'wrong' every time.
A Tarot reader is a reader not by choice. It is a calling, and one that a true reader cannot ignore. Allow your reader to deliver their best for you. In the words of my own Tarot language, "Don't be all twisted up, all Eight of Swords-like. Rather, allow your mind to be in a state of Four of Swords, knowing things will be okay. Rest assured and know that you have no need to worry, because the Nine of Swords says so. The Tarot can open you up like a book. Your only task is to allow it.

About The Author: Asherah

Asherah is a natural born psychic empath born and raised in Kingston Jamaica. An ordained Reverend and High Priestess, Asherah can easily tap into your real truth and help you to see clearly, releasing attachment to outcome by simply focusing on where you are now. Using tarot, numerology astrology and more..you can learn how to communicate your needs today! You can get a psychic reading from Asherah at PsychicAccess.com.