Forgiveness – Letting Go To Be Free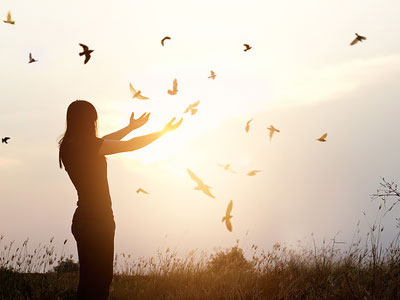 Think for a moment of all the heavy emotional burdens we tend to carry: resentment, anger, jealousy, vengeance, hatred. When we carry all that baggage, in some cases for years at a time, our mind, body and soul suffer the consequences. It can do a lot of harm over time, since these emotions are associated with very powerful negative energy! The good news is, there is a simple and effective way to leave all of it behind: the miracle of forgiveness.
True forgiveness is not just about our relationship to others. It begins with forgiving ourselves. If you were to take an honest inventory of your outlook on life as it stands right now, what would that be? Are you often judgmental, bitter or harsh on yourself and others? It's time to offer some forgiveness.
To forgive is the highest, most beautiful form of love. In return, you will receive untold peace and happiness ~ Robert Muller
No matter what your belief system, you can begin to incorporate forgiveness through a variety of spiritual practices, such as affirmations, positive associations created by gentle pressure points, or tapping, and journaling. The more you get the underlying issues out in the open, the more you're able to see them for what they are, so that you can make different choices.
Start small. If you think of forgiveness as a pebble thrown into a pond, each ripple will spread outward and touch different parts of your life. Make visuals, create spoken or written affirmations, and truly make forgiveness a part of your daily life.
You may think that it's impossible to forgive someone, or yourself, for past misdeeds. It's not! Anyone and anything is capable of giving and receiving forgiveness.
Some people, if skeptical, may see the idea of forgiveness as a kind of magical 'get out of jail free card.' But this is not the case. Yes, we acknowledge that these past events happened, and that they hurt us. What we gain in forgiving is a positive set of energies to replace the negative ones, as well as the knowledge and wisdom to move onward in life. Isn't that even more magical than an invisible hand over which we have no control?
Through practicing forgiveness, we learn to authentically love ourselves, as well as others. When we are able to fully love, only then can we heal, inspire, and nurture the way we were intended to, Then we can become better partners, parents, and teachers.
To forgive is to set a prisoner free and discover that the prisoner was you ~ Louis B. Smedes
Think of forgiveness like the oxygen masks used on airplanes in emergencies: unless we first forgive ourselves, there is no way we can forgive anyone else!
If you're unsure where to begin, Dr. Philip Friedman's book The Forgiveness Solution is an in-depth source for everything you'll need. The book is written not as a typical self-help manual, but a full course on bringing forgiveness into your life, including inventories, journal prompts, exercises for each step, and wisdom for the stumbling blocks.
It is possible for anyone to finally let go of all the years of pain and suffering to lead the life they were meant for. In order to gain, we first have to lose… and forgiveness is the foundation upon which everything must stand. So, bring it into your life and expect miracles to start happening.

About The Author: Mystic Shelley

Mystic Shelley is a Psychic Medium. She has been reading for over 15 years helping and guiding people. She uses my 8 spirit Guides during her readings. She reads in the area of love, relationships, career, money and all matters of love. She will give you only honest and direct answers. Get a reading with Mystic Shelley now at PsychicAccess.com