A Feeling Better Breakthrough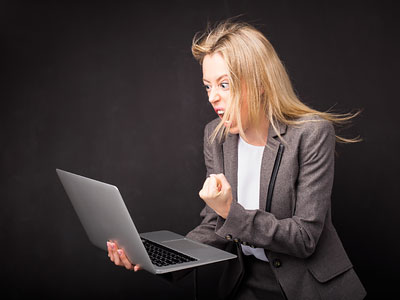 As a spiritual counselor I have found that one of the most effective ways for me to channel for my clients, as well as bring in the good in my own life, is by recognizing and trusting my feelings. The best way to explain this is when we feel good we are really 'feeling God' – the creative or Divine spiritual essence of our nature.
Every human being on this planet has a spirit. This is sometimes called the Higher Self or Holy Spirit. It is this spirit that is each human's ability to create a life filled with joy and ease.  If we are feeling fearful, stressed, or challenged it is often the result of being in some way disconnected to this spiritual self.
In truth, no one can ever really be separated from their spirit, but we can sometimes forget about our spiritual core. When this occurs, it means that we need a breakthrough. We need to remember our spiritual center. The best way we can do this is simply feel better.
Folks are usually about as happy as they make their minds up to be ~ Abraham Lincoln
This does not mean that you must go from feeling terrible to feeling on top of the world. Often there can be many steps from one point in our life to another. However, one of the key places to start is where we are at in this very moment.
Recently a client that was very stressed out about a situation at work, only had questions about work during her session with me, and how awful things had become with her job. As we worked together during this first session, it was very clear that her situation was really quite challenging. Even when I pulled cards for her, the card representing her work situation indicated conflict and drama. However, the peripheral messages that we received for her were not about work.
As I channeled for her, Spirit kept saying that the root cause to this challenge was at home, not at work. When Spirit brought this up she even argued and said she lived alone. She explained that there was definitely no negative influences in her living space.
When I continued to read the cards, it again became very clear that her present challenges stemmed from what was taking place at home, not at work. We also received the message that to amend the work situation it is imperative for the home situation to be remedied first.
Then Spirit said, "What do you do when you are at home?" This brought up a very interesting conversation. She explained that she watched some TV and she spent a lot of time on social media keeping up with her friends.
Then the question came through from Spirit, "How do you feel at home?" She explained that she feels stressed out, but then she still explained that her stressful feelings were because of work. As our conversations with Spirit continued it became clear that she was carrying feelings into her home that didn't need to be there.
For every minute you are angry you lose sixty seconds of happiness ~ Ralph Waldo Emerson
She also explained that she watched dramatic shows that often contained stress-filled experiences and when she went on her social media accounts she would often engage in argumentative banter or post negative things about her experiences. She even admitted that she would often post complaints about work while she was at home, and that many of her colleagues were also her social media buddies.
This was the moment of breakthrough for her, because when she realized how her home life was a continuation of her work drama, she was determined to do things that made her feel better instead from that point on.
We had an appointment about a month later and she told me how much her life had changed. The situation at work was still challenging, but her life was shifting into a much better direction. She explained that she started taking an art class and was not only enjoying the instruction, but also made some friends that were much more "her speed," as she put it.
This example is not to say that you need to take an art class, or anything like that. It does however mean that you may want to address how you are feeling about your situation right now, and see if you are allowing the drama of one situation to spill over into your home, or other relationships.
This may mean joining an art class and it may not. Just recognizing that you often have a choice about how you are feeling right now, in this very moment, is a movement from the side of you that is consumed with stress or fear, to the part of you that is unlimited creative potential.
There are many ancient and esoteric writings that refer to the Source or God as being "good" or "love."  When we feel good and when we feel love, we are in touch with the same creative source from which all things came. That's a profound and powerful reality, and certainly a better feeling breakthrough!

About The Author: Cosmic Coach

Cosmic Coach (James) is a Christian Minister, a teacher and an Energy Guide. He has been seeing and talking with Angels and Guides since he was 7. As a teen, it dawned on him the unique connection he had. He prayed for others at his family's Christian church, and received direct messages and healing energy from Spirit. As a young adult, he became ordained and is still attached to the Christian Church today. After mentoring with a remarkable psychic woman, he developed his own tools and began his full-time psychic practice. James has mastered many techniques in his psychic practice to connect with the unique heart center of each of his clients. He is a Reiki Master of many traditions, who is adept at crystal healing, card readings, and delivering detailed messages from Angels and Guides. James is always expanding the base of his knowledge to broaden his reach and serve as many clients as possible. To experience a unique reading personally designed for you, you can find Cosmic Coach at PsychicAccess.com.


This site uses Akismet to reduce spam. Learn how your comment data is processed.