The Twelve Laws Of Karma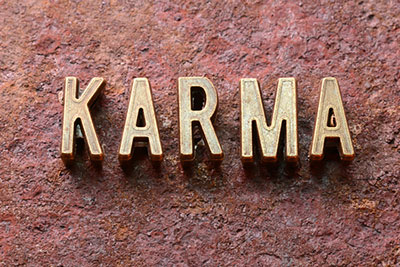 Karma is a tricky word to define. And no, it doesn't mean 'revenge' or 'payback!' In the simplest sense, karma is energy. We get back what we put forth. Or, to paraphrase Mahatma Gandhi, we become the product of our thoughts. And, like other forces at work in the Universe, karma follows a set of basic laws:
Great Law – We reap what we sow, every cause is related to an equal cause.
Law of Creation – Our intentions and desires are related. In other words, God helps those who help themselves.
Law of Humility – It is what it is. We must first address the root of our issues and accept things at face value, before we begin to change.
Contrary to popular misconception, karma has nothing to do with punishment and reward. It exists as part of our holographic universe's binary or dualistic operating system only to teach us responsibility for our creations-and all things we experience are our creations ~ Sol Luckman
Law of Growth – We are in control of ourselves and therefore, our results.
Law of Responsibility – Our state of mind will reflect everything else around us. We can change if we wish.
Law of Connection – All things are connected, no matter how large or small. We focus on each aspect in order to achieve change.
Law of Focus – Multi-tasking is not possible if we want to make real, lasting change. We must devote our full attention to the moment.
Law of Hospitality/Giving – In order to be whole, we must be selfless and give back to others.
Law of Change – Insanity is doing the same thing repeatedly and expecting different results. Real change begins with a shift in patterns.
Law of Here and Now – Today, the present, needs to be the focus of our energies. Fixating on the past or the future is pointless!
Law of Patience – Everything good is worth waiting for, and very few things of real value can be had in a short amount of time.
Law of Significance – What we achieve is meaningless if it is empty of deeper values, and not true to our own understanding.
Every action has equal and opposite reaction. This is law of the universe and spares none. Wrong done and injustice inflicted is paid back in the same coin. No one has escaped justice of the universe. It is only a matter of time ~ Anil Sinha
So what do we do with these laws? It might be tempting to tack them up on a bulletin board or a social media page, and while that's okay, it's better to start thinking about what each law means in your life right now. Make it a part of your meditative or journaling practice to gain a deeper understand the meaning behind each.
Karma isn't to be understood as a kind of magic candy dispenser in the sky. Instead it is a part of the greater Universe, it has our best interests at its core, as long as we're putting out the right energies!
Begin to think of karma as a mirror between ourselves, our thoughts, and the Universe as a whole. The mirror does not lie. It reflects back exactly what is there.
When we start thinking this way, that's when the real magic begins. Karma will always know where to find us, and how to bring back what has been put forward. Learn and study these 12 laws and put them to work for you.

About The Author: Mystic Shelley

Mystic Shelley is a Psychic Medium. She has been reading for over 15 years helping and guiding people. She uses my 8 spirit Guides during her readings. She reads in the area of love, relationships, career, money and all matters of love. She will give you only honest and direct answers. Get a reading with Mystic Shelley now at PsychicAccess.com