Being Spirit's Messenger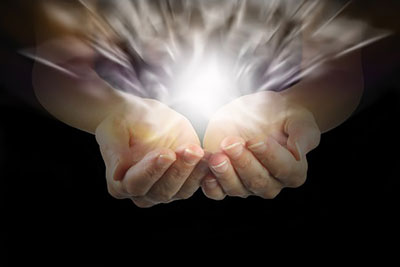 A friend named Laura lost her husband to terminal illness just a few weeks ago. I have known this friend for over three decades, and our friendship has been one of touching base every now and again, mainly on birthdays and anniversaries. She did let me know, however when Bill had passed.
The last time I saw Bill was about 15 years ago, when he came to me for divination – throwing the bones. Our connection wasn't such a strong one that I would expect him to be present in my dreams within just four days of his passing. But he was there, in three of my dreams, one after the other. I gave those dreams very little attention, so the memory of them was vague by the following day.
My friend Laura has always been somewhat skeptical, even afraid of 'the other side.' When I had the fourth dream, still, within only a few days of Bill's passing, I noted every detail and told her what had happened, and asked how she would feel if I shared what I felt was a message for her.
I'm just the messenger here. I'm just another representative of my faith, so to speak ~ Stephen Baldwin
"Please, anything you have from Bill, I want to know. I miss him so much," she said.
In my vivid dream, Bill was glowing with happiness. The setting for the dream itself, was 'studio-like', as if we were behind the scenes at a theatre or film set, and this was where Bill was creating the most beautiful artwork with paints and very fine 'stick on' accessories on children's faces. The artistry was exquisite, and used some of the most stunning colors, more vivid than we see on this earth plane. He certainly seemed to be in his element as he was showing off his creations to me.
I recall thanking him in the dream. I certainly feel Bill wanted me to let Laura know he's okay. He was persistent. It's rather swift to have a spirit's visitation within a couple of weeks of their passing, but it was real, and he wasn't going to give up until I passed on the message to a once cynical Laura.
She was delighted, so mission accomplished!
But Bill wasn't done with stepping into my dreams. There he was again last night showing myself and my husband around an oddly shaped apartment. He also brought us a little car he'd sourced through networking. Initially those two scenarios of the dream made no sense at all, until I heard from my Laura today that she is, in fact, about to begin looking for an apartment. So, that part of the dream had a message for her.
Death leaves a heartache no one can heal, love leaves a memory no one can steal ~ Irish Headstone
I then did a focus reading for clarification, which suggested that there was guidance and support for her from Bill, which prompted me to tell her that he would be looking at apartments with her!
I will have to wait and see if she decides to change her car. I know my husband will be looking at trucks soon, so hopefully Bill will help him find the right one for his project.
I have come to accept that, as awkward as it may seem at the time to pass on messages, or information received in a dream, or psychically, we are just the messenger. Sometimes, it may feel like we deliver a message which might be dismissed. What I have experience though, is that if I don't pass on a deceased loved one's message, they will persist to the point that I feel I am being haunted by them.

About The Author: Shani

Shani is a qualified practitioner in Reiki, aromatherapy, reflexology, body spin, and animal telepathy who received psychic development training at the Arthur Findlay College of Psychic Research in England. A published writer, her articles and predictions have appeared in several respected magazines and on psychic websites, and she has read for many celebrities and even heads of state in Africa. Though she was born in London, Shani has traveled the globe and has studied the art of African Mysticism, bringing her unique flavor to those seeking her incredible talents. Get a reading with Shani at PsychicAccess.com.


This site uses Akismet to reduce spam. Learn how your comment data is processed.