Grief As A Spiritual Life Lesson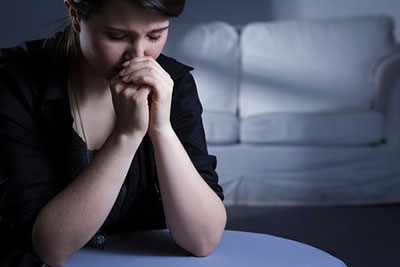 Just under a decade ago, a decision I made to let my eight and a half year old Rottweiler Sophie go, was one of the hardest things I have ever been faced with. Sophie had suddenly become ill over the course of four days and nothing could have prepared me for the subsequent grief. Although time heals, I still recall the way it felt when she was gone – like my heart was being ripped from my chest.
Grief can be described as the universal response to loss, and a very natural, yet terribly painful internal process. When there is a significant change, or loss in one's life, grief is both a physical and emotional response to that change. Grief brings its own stresses, and continued grief actually compromises our immune system, because all cells in our bodies are affected by intense emotions.
Grieving is a necessary passage and a difficult transition to finally letting go of sorrow – it is not a permanent rest stop ~ Dodinsky
I once researched the topic of grief, and recall reading how every thought we process is more or less immediately translated into a bodily sensation. During a negative or fearful thought, adrenaline is immediately produced by the endocrine system. Our entire being is affected by grief. As a youngster, I was told the story of how my grandmother's eyes had changed color from brown too blue when she received the news of my grandfather's death.
I was prepared for my father's death ten years ago and, although, sad, it was a relief to see him free from the pain he'd endured in those latter months of the time I nursed him. As his hospice nurse said, when I questioned her on my lack of shock and deep grieving after his passing, "You have gone through a period of what is known as 'anticipated grieving', during which time you had an opportunity to come to terms with what was happening, and to go through the steps of grieving during the last seven months of his life."
We certainly cannot judge the depths of another's sorrow based on their reactions when there is a significant loss. This, I learned when my Sophie died. I dealt with her loss by withdrawing, even to the point of not doing any psychic readings for three weeks. Knowing how much I loved my work, my husband suggested that getting back to work might help with my healing, but I couldn't communicate with others during this period. I wasn't in a condition to help others to process their problems, or even their grief, as often is the case in my work. I began the healing process my own way, by making lists of daily chores and doing basic things like putting out the garbage and doing the dishes. This helped me create some structure I could hold onto.
Despite thinking I'd prepared myself for saying goodbye to my best friend when we relocated to another continent fifteen months ago, it felt like a shock to my system and nothing prepared me for that loss of not seeing that special person on a regular basis. Imagine how people felt before technology allowed daily contact with family and friends. I even talk to her pets over the phone now!
While grief is fresh, every attempt to divert only irritates.  You must wait till it be digested, and then amusement will dissipate the remains of it ~ Samuel Johnson
Our loved ones in spirit do not want us to grieve excessively. They try to reassure us of this when they come through with messages for us, confirming how we will be together again one day when our journey here is done. In many cases they will try and reassure us that their work on planet Earth was complete when they departed. It is often said by mediums that we tend to hold back our loved ones from their own spiritual growth on the other side by mourning them excessively.
A friend recently shared with me her four guidelines for grieving:
Shock & Denial
I was in shock when my father's doctor phoned me with the news of his pancreatic tumor, and I guess in denial too, because I asked the doctor whether he might have made a mistake with the diagnosis.
Pain & Guilt
With loved ones around me, I expressed my sadness as the reality of my dad's terminal illness set in. I had time to work through any guilt which may have been related to things left unsaid to him. With my Sophie, I beat myself up about my decision to let her go, and also wondered if there was something I could have done to avoid her illness which had so suddenly ravaged her body.
Anger & Bargaining
I was angry at my father for abusing his health for so many years. I guess, in a way he was bargaining by trying every alternative treatment available. I am glad I chose not to share my anger with him though, because towards the end of his life, I overheard him admitting to my friend how he had neglected his own health with heavy drinking for years. He didn't need reminding of his own part in his illness. I prayed for more time with my Sophie, but I guess I knew from that soul-like stare, that she had been giving me for days, she wanted me to release her from suffering.
Depression, Reflection & Loneliness
Just as we think we have come to terms with our grief, times of depression, reflection and even loneliness may tend to kick in. It's important that we allow ourselves to process these feelings without trying to dismiss them, no matter what well-meaning people might suggest as quick-fix remedies. It can be a lonely process at this stage for many of us.
As painful as it might be, it is important for our ultimate sense of well-being that we experience each of the painful steps of grieving. For those who keep a 'stiff upper lip', and suppress their feelings, there is a tendency for them to express deep-seated emotions in very destructive ways, and some individuals, at times, try and escape their pain through alcohol or drugs. This is not grief.

About The Author: Shani

Shani is a qualified practitioner in Reiki, aromatherapy, reflexology, body spin, and animal telepathy who received psychic development training at the Arthur Findlay College of Psychic Research in England. A published writer, her articles and predictions have appeared in several respected magazines and on psychic websites, and she has read for many celebrities and even heads of state in Africa. Though she was born in London, Shani has traveled the globe and has studied the art of African Mysticism, bringing her unique flavor to those seeking her incredible talents. Get a reading with Shani at PsychicAccess.com.