Her Husband Returned To Say 'I Love You'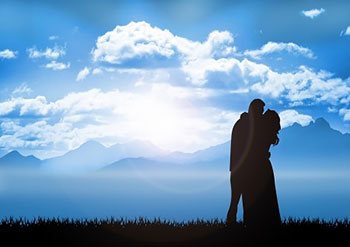 When someone we love dearly suddenly passes from an accident, or in some way they are taken too soon, they often return to say goodbye. They come back to tell us they love us one last time, before they go on to do whatever it is our souls do on the other side.
We are apparently given time to visit those we were not given the opportunity to say whatever we wished to before we cross over. I have found these afterlife visitations to be true through my own personal experiences, as well as that of friends, family and clients. One of my clients, a very sweet mother of two children, lost her husband suddenly in a motorcycle accident. She was never able to say that she loved him that day, before he left for work.
There is no grief like the grief that does not speak ~ Henry Wadsworth Longfellow
She asked me if he was around and I told her that he was, and that I felt he would want her to know that he loves her. He is with her all the time and doesn't want to go on until he can show himself to her and tell her that he loves her.
I told her that what she may want to do is accept his offer by saying out loud "I welcome a visitation". I shared with her what works for me. I simply pray to God to allow it to happen. She called me and told me she had done just that and it didn't work the first time, but the second night she was praying, and when she got up to go to bed after praying he was sitting on her bed.
She sat down next to him and they were able to have their time together, he shared with her many messages and how it was his time to go, and that he was okay and not in any pain. He said he was floating over his body at the time of his passing, looking down at his body, and he could see the paramedics and the people around him. He was so glad that she didn't see him like that, as it was not a pretty sight. He also said that he will always be around, all she needed to do was call his name, because he can hear her and he was right there.
That visitation was very comforting to her and very real. She said the feeling of pure light and bliss was around her, as if she was able to feel how he was feeling for the time they were together. She was able to give him a kiss and as she did he left the room, but she was able to smell him and feel his energy for quite a while after his time was over to be with her. She said she felt there were angels around them. I remembered when my Grandpa came through for me I also felt angels were around helping to make that visitation possible.
Death leaves a heartache no one can heal, love leaves a memory no one can steal ~ Irish Headstone
I was so happy she shared that experience with me. He had passed fairly recently, so for me to tell her to go about it the way she did was pretty spot on. I knew that it would work, I felt he was around her and wanted to make contact – he just had to know she would welcome it. She shared her experience with her children and one of her children shared with her an experience he had with his Dad. His dad had come to him in a dream and he helped to direct his son with something he wants to do with his life. He encouraged him to become a doctor to help people.
So many wonderful positive domino effects can happen when we talk with others about our experiences with those that have crossed over, and have come back to touch our lives. The love cord connection we have with those that have crossed over never gets severed. I have found that it doesn't matter how long those we love have been over on the other side, if we want to connect we can. We just have to want it and if they also want to, it can happen, easily.
Love doesn't die, our bodies may perish, but our soul of pure love and light is always shining bright. The soul has the ability to be in more than just one place at one time. I feel we are able to be many different places at once when we cross over. So never feel you are hindering your loved ones to connect with you, they are waiting and wanting to connect. They are just waiting for you to ask. It's true, ask and you shall receive – especially where our loved ones are concerned.

About The Author: Moon Goddess

Moon Goddess is a third generation empathic healer and seer. She started to give healing readings to people more than 20 years ago. She has always been interested and studied all things metaphysical from a young age. Being hypersensitive she can feel and see things before they happen. Utilizing the Tarot, and with the help of her Guides, she is a source of support for many people all over the world. After he passed over, her grandfather kept his promise and came back to say goodbye and gave her the most amazing experience. Moon knows there truly is a Heaven, and it is wonderful! Sharing her experience has helped many people after they have lost someone, or anyone experiencing some form of grief. Get a reading with Moon Goddess now at PsychicAccess.com.


This site uses Akismet to reduce spam. Learn how your comment data is processed.