Animals As Healers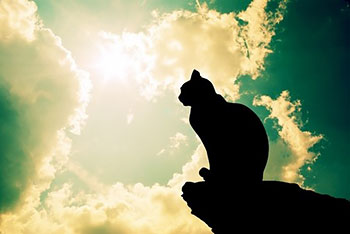 Pet owners know about the many benefits of animals in their lives. But what exactly do they give us beyond companionship?
Our ancient ancestors not only loved animals; they revered them. Many of these cultures were shamanic and knew of the psychic properties of all the animals in our world. Today we live in a modern world, but these connections are still there. Animals that we regard as common or even nuisances, such as pigeons, ants, spiders, and even rats, all have lessons to teach us. And we can learn, even as we avoid them.
As with our dreams, it's a good idea to keep a small journal on the animals you encounter. Think about what each creature means to you personally. Meditate on the way it sounds, moves, and looks. A gray squirrel in a park may give you the idea to become more agile and quick physically, or that you need to start saving money for lean times. No two people will see an animal the same way.
We need another and a wiser and perhaps a more mystical concept of animals… In a world older and more complete than ours they move finished and complete, gifted with extensions of the senses we have lost or never attained, living by voices we shall never hear ~ Henry Beston
If you are new to this field of study, a well-written book on spirit animals and totems is a good read, but it's advisable to draw your own conclusions first. Also concentrate on your feelings and energies when you see each animal. Are you scared, inspired, awe-struck? These animals cross our path for a reason. Even a tiny ant has a message to send.
In addition to these wild, and not-so-wild animals, we are surrounded by domesticated pets and livestock. Pet owners know about the many benefits of their best friends; they are known to live longer and lead happier lives. For those of us who don't have pets, even being around others with them is a chance for psychic connection. There are so many types of dogs and cats out there.
Next time you see a friend or neighbor walking a dog, think about what that breed represents. Picture it in your mind. If you are a pet-less person, consider visiting a shelter or animal sanctuary. These animals will be glad for the company.
There may be times when we're confined to an environment without animals in it. Still, we can receive visits from spirit animals in our mind. If this is the case, ask for your totems to visit you in your dreams and meditations. Seek them out. If it helps, check out a book of animals from your library and browse. There will be animals which you are naturally drawn to without knowing why, even if you've never seen one in person. Visit a zoo or aquarium if you have one in your area.
Stop and really "listen" to your animals. Even though they are not speaking the way we do, all of them have something to say. We, as psychic beings, can listen.
Animals enrich our lives in countless ways, beyond their roles as lap-sitters and bed-warmers. If you've never thought of yourself as an animal person, perhaps it's time to reconsider. Find a way to bring the wild kingdom into your life and begin to see it change for the better.

About The Author: Mystic Shelley

Mystic Shelley is a five-star psychic, Reiki healer, clairvoyant and empathic reader. She offers her clients honest answers about past, present and future events with the help of her trusted guides. She reads in the area of love, relationships, career, money and all matters of life. Mystic Shelley was born with talents that would later mark her as a gifted psychic, but she chose not to embrace them early on. In her 30's, a not-so-chance meeting with a celebrated psychic set her on a course that awakened her gifts. Born with the gifts of clairvoyance and empathy, her psychic mentor helped her to expand those abilities, taking her talents to the next level. With experience came proficiency and today she has a growing list of devoted clients who sing her praises. In addition, she's also actively assisted other psychics to open up to their abilities. If you are looking for direct and honest answers get a reading with Mystic Shelley now at PsychicAccess.com


This site uses Akismet to reduce spam. Learn how your comment data is processed.