Why Is God Not Hearing Your Prayers?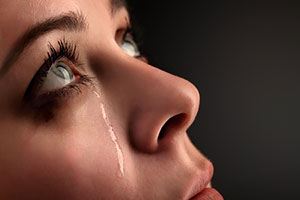 Yesterday, my best friend called me. She has been my friend since second grade. Her family moved to our island from the main land during the summer before our second grade year. Like me, she was witty, funny, and full of energy, and we became really good friends. She became the sister I never had.
Unfortunately, although she had always been full of life and fun, she has also always been very stubborn when it came to certain ideas and her belief system. Her family, like mine, was very religious and I was so sure she would end up a nun some day, but she did not. Her heart found love and desires like the majority of us. She married much younger than me, in her late 20's, and she is still with the same husband today who also is the father of her three beautiful, grown children.
I talk to God but the sky is empty ~ Sylvia Plath
For the last decade, her husband has been in a deep depression, and she has tried every prayer and novena in the world in order to help him. She even took him to the Holy Water of Lourdes and to Magigoria Shrine, but he is still fighting those demons every day of his life. She calls me daily for help and advice, and often we end up crying together and at the end she always feels better.
Since 2013, I have really seen things going downhill for my friend. Although I will always be here helping her, I know the situation was out of my hands. I have been suggesting that she needs to see a counselor or a psychologist, to talk out those fears and deep depressions building inside, but she has never believed humans can fix a problem before God. Being a woman of deep faith and integrity myself, I have always supported her decision. We always end up praying, and of course crying over the situation.
Last night, after our last talk, we hang up and each went our separate ways with our daily routines. But at 4:00 am Serena called me screaming and choking! She was in an ambulance with her husband on their way to a mental hospital about 40 minutes away. My friend had found her husband on the bathroom floor, with an empty bottle of painkillers next to him. He had swallowed 63 pills.
She asked me to pray with her, while we both cried, and we did. But this time I know the prayers will be for sure answered sooner, because her husband is not only in the spiritual hands of God, but also in the right place to get the help he needs.
The value of consistent prayer is not that He will hear us, but that we will hear Him ~ William McGill
Many times my friends and clients ask me: "Why is God not listening to my prayers?" I always ask them if they are praying for the just cause. God has been telling me for years that my friend and her husband needed to get some serious professional help, but she always refused to admit it, until this morning, when she had no other choice.
I know my friend and her husband will be fine, and I know she will still call me daily for our talk, but I also know they are now receiving God's help through medical experts. I am often reminded in these situations of the sermon of the sailor drowning in the water. He was asking for God to rescue him, while he refused help from the two people God sent him, until he finally drowned.
About The Author: Mariella

Mariella is a New York resident, born in Italy, who began accurately reading at the age of eleven with just an ordinary deck of playing cards. She's since designed her own deck of Tarot cards as well as a unique time board that provides clients with startlingly accurate time frames for her predictions. For a reading with this warm, funny, and highly detailed Clairvoyant and Empath, you can find Mariella at PsychicAccess.com.