Heliotherapy – Let The Sunshine In!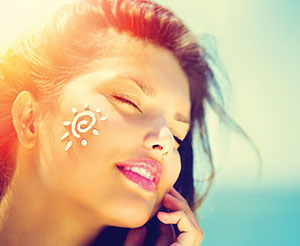 As winter is upon us in the Northern Hemisphere, for many of us it's also the onset of Seasonal Affective Disorder (SAD), also known as "winter blues" or "winter depression." Since most of us can't afford a month-long trip to a tropical island to offset our melancholy, what can we do holistically and naturally to restore ourselves to balance?
Many of us spend our waking hours almost entirely indoors. We wake up when the sun is just rising, work for many hours, and then go home when it is already setting again. This is artificial and unhealthy.
Our ancestors, who were free from our modern lifestyle diseases, never would have experienced it. We need sunlight to grow, to heal, and to thrive, which is why SAD, in these months of diminished sunlight, can be so debilitating.
Make it a priority to get outside and take in the natural light. Without the Vitamin D and other nutrients we need, it's easy for us to slip into a downward spiral. In addition, natural sunlight has benefits such as lowered blood pressure, a stronger immune system, and improved mood.
Wherever you go, no matter what the weather, always bring your own sunshine ~ Anthony J. D'Angelo
In western culture, people have been told to avoid the sun for fear of skin cancer or other maladies. But some experts now claim that the opposite may be true! The sun gives life and vibrancy to every living thing on Earth. We are no exception – we simply need sunlight.
One of the best practices is to take your exercise outdoors. Even a brisk 20 minute walk in sunlight may end up helping more than an hour-long session under artificial lights inside a gym. An outdoor hobby, such as woodwork or winter gardening, is also a great way to exercise both your mind and body.
We often only hear warnings about the dangers of Ultraviolet (UV) radiation. The truth is, our bodies also need moderate levels of UV just as we need the other visible and invisible forms of light. If you live in a place like the Pacific Northwest of the United States, where sunlight is scarce, or in a place where winter days are short, you may need some extra sunshine in your life.
A less expensive, and more holistic, alternative to that trip to Hawaii might be a sunlamp. It's a good way to simulate natural sunlight indoors. Another alternative, which many practitioners endorse, is several sunlight "mini-breaks" in our day. Many of us get short coffee breaks at work. These can be spent getting some sunlight, which might help improve your mood almost immediately.
Keep your face to the sunshine and you will never see the shadow ~ Helen Keller
Another natural, holistic way to make up for our Vitamin D deficiency in winter is nutritional supplements. Foods, such as berries and fish, can naturally increase those levels.
Most of all, however, we still need to respect and honor the sun. Make it a part of your daily routine to give thanks for its powers of healing and growth. Positive meditation, along with our balanced exercise and diet, is almost always a mood-lifter.
And of course, if you can afford it, a winter vacation to a location with lots of sun couldn't hurt either. As with any source of great power, be sure to treat the sun with great respect, and take the proper precautions. Everything in moderation, including sunlight!

About The Author: Mystic Shelley

Mystic Shelley is a Psychic Medium. She has been reading for over 15 years helping and guiding people. She uses my 8 spirit Guides during her readings. She reads in the area of love, relationships, career, money and all matters of love. She will give you only honest and direct answers. Get a reading with Mystic Shelley now at PsychicAccess.com