The Powerful Bond Of A Love Connection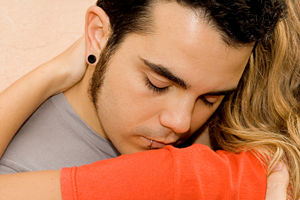 I think we can really feel the intensity of true love the most when we are young and experience falling in love for the first time. The feeling is so strong and all encompassing.
When love takes over everything in the world just feels so much better. The grass is greener and everything is perfect and good, in a way that words simply cannot express. If you fall madly in love with someone, and you are really lucky and get to have and hold that love, it is even more profound and deep-seated.
I was fortunate to experience this once. It happened while I was working as a bagger at a local grocery store. I stood up, after stocking the paper bags, and suddenly locked eyes with a wonderful soul. He obviously felt the same way, because he returned with his phone number that he had written on a small piece of paper for me.
It is wrong to think that love comes from long companionship and persevering courtship. Love is the offspring of spiritual affinity and unless that affinity is created in a moment, it will not be created for years or even generations – Kahlil Gibran
We had a wonderful romantic relationship for nearly four years. He ended up finishing medical school several states South from where we initially met. Despite my fear of flying, I did fly down to see him once. I also took my Tarot cards and did a few readings for him. The 'Death' card kept popping up, but I kept reassuring him that it usually means 'transition', and not to worry, no one is going to die.
He came home for a family visit a few months later. I was sitting at his parents' pool in the back yard, where he grew up. I suddenly sensed something terrible. I had this overwhelming and ominous premonition that someone in his family was going to die. Being so connected to him, I felt that it wouldn't be him, but his brother. I felt very strongly about this. Seeing him playing his guitar, so alive and happy, I could not begin to imagine losing him.
Of course, I didn't want to scare anyone, but I did feel the need to share my fear with him. I told him that I felt something tragic was going to happen, but I did not go in to too much detail and I also said nothing about his brother. But later, while driving back home, I saw in my mind's eye his brother getting into a motor vehicle accident.
The bond  that links your true family is not one of blood, but of respect and joy in each other's life. Rarely do members of one family grow up under the same roof – Richard Bach
I was going to see my love before he went back to Florida later that week. He said he would call and we would make plans, but he never called. So, I called him the next day, only to learn that the reason he had not called was that his brother had died the night before. I just froze when he told me this. I went over and over in my head how to deal with this. I felt so guilty, like I should have warned him, or something. I was only 18 at the time and I still had a lot to learn.
In the months that followed I had several dreams, in which his brother came to me in the form of a dolphin. He was a marine biologist in life and at the time of his death he was studying dolphins and how they communicate. In these dreams he told me that he was now free and blissfully happy. I also shared this message with his brother and his family, which gave them great comfort.
Even though I never married my first love, I will always be deeply connected to him and his family, because of the death of his brother and the unique cord of love that connects us all. I now know that when you love someone so deeply, you can connect with them and there siblings and other loved ones.
Love also empowers us to sense things that are about to happen to the people we love and their families. Opening up and allowing this psychic gift to grow and flow within us, can help us to better enjoy the precious time that we are given with the people we care about – no matter how short a time that may be. And even after they have left this realm, we are still very much connected.
About The Author: Moon Goddess

Moon Goddess is a third generation empathic healer and seer. She started to give healing readings to people more than 20 years ago. She has always been interested and studied all things metaphysical from a young age. Being hypersensitive she can feel and see things before they happen. Utilizing the Tarot, and with the help of her Guides, she is a source of support for many people all over the world. After he passed over, her grandfather kept his promise and came back to say goodbye and gave her the most amazing experience. Moon knows there truly is a Heaven, and it is wonderful! Sharing her experience has helped many people after they have lost someone, or anyone experiencing some form of grief. Get a reading with Moon Goddess now at PsychicAccess.com.