How To Become A Lightworker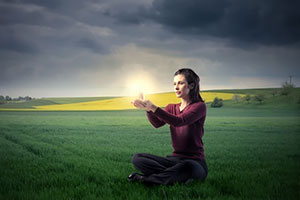 The term "lightworker" has many meanings in the magical realm. It does not, as a layman might think, refer to someone "who works lightly" or even directly with light! A lightworker is an enlightened soul; one whose mission while on Earth is that of raising consciousness, bringing awareness and truth.
Those on this path are often described as "old souls," and for good reason, since so many of them have experienced many stops on their karmic journeys. But what are they doing among us, and how can we learn to practice the art of lightworking?
The more light you allow within you, the brighter the world you live in will be ~ Shakti Gawain
Everyone has the potential to make a difference through lightwork. We may think of famous figures, such as the Dalai Lama or Mother Teresa, but the truth is, every one of us can make the choice to do good things and spread love, instead of hatred. That is the core of lightwork.
When we make positive choices, the effect is like that of a rock tossed into a pond. The ripples spread outward and create greater change. If we choose to be kind to those we meet, they are more likely to do the same. Peace, as the saying goes, starts on a small scale. All politics is local and the same principle applies to our lightworking.
If you doubt whether you can practice lightwork yourself, start with your thoughts. Our thoughts become our actions, which become set patterns. This is one of the reasons there is so much chaos and destruction in the world today: negative thought patterns.
While engaging in your daily meditation or prayer, make a conscious effort to send out only positive, loving thoughts. This, above all else, will be the foundation for your lightwork. It will also help to rid yourself of any destructive behaviors or habits, and will bring the right kinds of spiritual influences (such as angels) into your corner. People, and spirit beings, want to help someone who is positive!
It will also help you to journal as you begin your lightwork. You can also try painting or drawing if you are more visual. Surround yourself with imagery and words filled with light and love. Create a mantra or two for yourself and repeat it throughout your day. Science has proven that any new thought process requires at least a month to grow in our consciousness. Light working is no different. Keep at it. Like anything else, it will require practice.
Your purpose is to shine your light as brightly as possible. Your light heals, inspires, and illuminates the planet with divine energy ~ Doreen Virtue
The thing that scares a lot of people about lightwork, and perhaps its most powerful truth, is how it exposes us for who we really are. When we are looking that deeply into our spiritual self, we see not just our present state of being, but our influences from past lives and other planes. That can be terrifying, but also enlightening.
Don't be afraid. When we do lightwork we are using all that is pure and good. Our spirit guides and angels, who are representatives of the Light, have our best interests in mind. They will not let us down so long as we trust them.
Most of all, when you are practicing lightwork, your goal is to help others, to better their lives, to connect in your larger world. Keep this in mind as you work. It's not just about you; it's about others, the different spirit realms, the Universe itself. And when you're doing this work, you're making a difference whether you see it right away, or not!

About The Author: Mystic Shelley

Mystic Shelley is a five-star psychic, Reiki healer, clairvoyant and empathic reader. She offers her clients honest answers about past, present and future events with the help of her trusted guides. She reads in the area of love, relationships, career, money and all matters of life. Mystic Shelley was born with talents that would later mark her as a gifted psychic, but she chose not to embrace them early on. In her 30's, a not-so-chance meeting with a celebrated psychic set her on a course that awakened her gifts. Born with the gifts of clairvoyance and empathy, her psychic mentor helped her to expand those abilities, taking her talents to the next level. With experience came proficiency and today she has a growing list of devoted clients who sing her praises. In addition, she's also actively assisted other psychics to open up to their abilities. If you are looking for direct and honest answers get a reading with Mystic Shelley now at PsychicAccess.com