Dancing In The Multiverse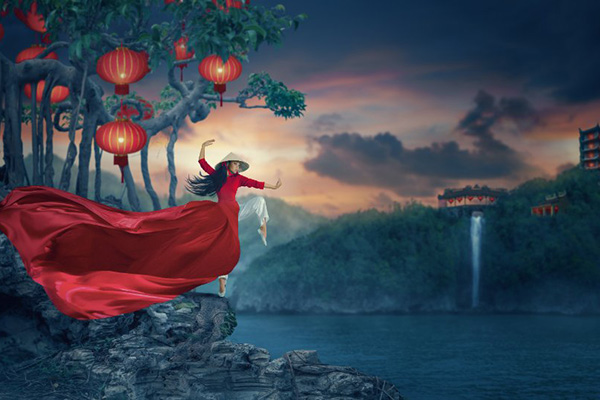 A movie I recently watched gave new feels to my feelings. Viewing the new sci-fi action adventure Everything Everywhere All at Once was for me like an Olympic event! The film dances in the multiverse and feels like an acid trip fueled by bizarre scenarios from the most imaginative cinematic minds. And yet, it reveals so simply and clearly what's fundamental about life.
Certain pre-destined events happen in our lives over which we have no control (fate), but there are also many things that happen to us that we absolutely do control through our free will decision-making process.
This movie portrays the power of our free will eloquently. Every choice the lead character, Evelynn (Michelle Yeoh), makesaffords her a different life in another universe.
Evelynn is a worn-out, disappointed immigrant who operates a laundromat with her highly dysfunctional family that includes: a grumpy, narrow-minded grandfather, a geeky but highly lovable husband (Ke Huy Quan), and a distant, rebellious daughter who desperately desires her mom's support in coming out to her grandfather. On top of all that, the family faces financial ruin when they can't pay their taxes.
Just when Evelynn's world is about to entirely collapse, the multiverse steps in to transform her into an antihero of incredulous proportions. Who'd have ever thought that downtrodden Evelyn could be the one to save the multiverse from ruin!
When a way cooler, Kung Fu fighting husband from another universe enters the milk-toast body of her husband, and places the heavy mantle of saving the world on her shoulders, Evelyn's response is that she's nobody, nothing. She can't be the hero of this mission. But Mr. Cool delightfully replies, "You're capable of everything, because you're so bad at everything!"
The mysteries of universe are revealed to those who seek to know the truth of their own existence first ~ Anjali Chugh
Evelyn is then thrust into a magnificent martial arts journey of defeating villains, while glimpsing other universes that appear enviable to her. She's experiences parallel lives as an opera singer, a glamorous movie star, as well as a chef with a raccoon. In one universe she bizarrely has hot dogs for hands!
Every decision she makes shapes a different, new reality, all of them supplying Evelyn with a larger perspective about what's really important in life: her family. These glimpses into alternate realities allow her to appreciate and fight for the drab little life she's already in. And then (spoiler alert) there's her invisible-made-powerfully-visible daughter, Joy, who turns out to be Evelyn's greatest gift of all.
Here's my takeaway from the film: Like Evelyn, we may think we're insignificant, flawed, or not special – but each of us is a powerful creative force fashioning new worlds through the choices and decisions we make each day.

About The Author: Tracey

For 11 years, Tracey's predictive practice has taken her down the rabbit hole, where she's amped up her intuitive gifts by mastering new tools that are accurate and cutting edge. She began with Tarot, Numerology, Soul Path Energy Clearing and Natal Astrology, reading for her one-on-one clients in her private practice, at fairs and festivals, and at private parties. Her newest technique, Horary, is popping up on new apps and on social media. Horary is a predictive and magical form of astrology like a psychic reading, with a chart cast for the moment and quickly read by a highly trained practitioner in the art. Tracey currently lives in South Florida, but she maintains a busy practice with clients situated mostly in Los Angeles, NYC, Chicago, Atlanta, and Palm Beach. Past clients she has worked with include a well-known Disney actress, a comic book icon, an Emmy nominee, a luxury hotel entrepreneur, and the founder of Ben and Jerry's ice cream. Tracey was asked to be part of a panel for an exciting new YouTube series sponsored by the prestigious Wessex Astrologer. She is also a successful sci-fi and fantasy author with a new book recently released to rave reviews. You'll have a magical trip when you hop aboard Tracey's exciting Horary bullet train leaving the station at PsychicAccess.com.