Caring For Mother Earth With Archangel Ariel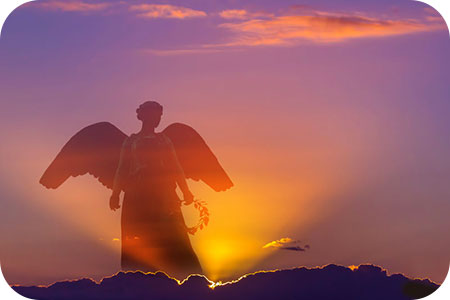 Otherwise known as 'The Angel of Nature' or 'Lioness of God,' Archangel Ariel is the overseer of both the healing and protection of all the plants and animals of Mother Earth. She also manages the care of the natural elements, such as the wind and water, as well as inspiring humans to look after the beautiful God-gifted planet that we live on.
This being the case, her presence is very often felt where conservation projects are taking place, or when any plans are being made to heal the cleanse the environment and heal the planet.
Should you desire to learn more about nature itself, then Archangel Ariel will provide you with valuable insights and opportunities to help both expand your experience and awareness of it.
Furthermore, as the Angel who watches over the planet's natural resources, she is incredibly helpful in ensuring that your basic needs, such as shelter, food, water and warmth, are always well met. Archangel Ariel also encourages individuals to live life to their fullest potential, by following God's will of course.
It is also understood that Archangel Ariel is the grand overseer of The Universe itself, including the sun, moon, stars and planets within it.
While it is correct to say that all the Archangels are strictly genderless, Ariel does come to us in the feminine form, her golden energy presenting hues of pink and white.
When Ariel is working to help you be all you can be, she may reveal more about God's purposes for your life or assist you with setting goals, overcoming obstacles, and achieving what's best for you ~ Whitney Hopler
Ariel often works with Archangel Raphael, to assist in her efforts in healing humans , as well as domesticated and wild animals. What is most interesting, however, is that lions and birds tend to become particularly tied to Archangel Ariel, because she manifests as these herself, both spiritually and physically, to draw our attention and make us aware when she is near.
Should you feel the strong need to connect with Ariel, then simply connect with Mother Nature, as this is very much her domain. Indeed, it is via Mother Nature herself that Archangel Ariel's rejuvenating and restorative powers flow. However, you may look no further than your nearest body of water, where you could intensely connect with her and so bathe in her healing presence.
Sincerely, by the time you have parted company with Archangel Ariel, you should feel really refreshed, excited and confident and therefore ready to start manifesting all the good that you desire and deserve to experience.
Where manifestation itself is concerned, Archangel Ariel is a real asset, as she can help you to draw in all you need, by reminding you that you and you alone are in control of that which you attract in life, via your thoughts, feelings and emotions that you create your earthly experience. In simple terms, by helping you to heal your thoughts and become in a more positive state, Ariel helps you to attract a far better life.
Interestingly enough, even though Archangel Ariel is a highly evolved being (as all angels are), she will never interfere with an individual's free will. So, she will allow you to learn your lessons, even if that be the hard way!
It is incredibly important to remember that when you do call upon Ariel for her assistance, she will answer you in whatever way she sees fit, be that practical, mundane, magical or downright miraculous – she will respond! Nevertheless, in whichever way she chooses to do so, Ariel will help to intensify your personal intentions, and thus align your vibration with that what you wish to attract consciously.
Archangel Ariel heals the disconnection many have with the planet, and the fears that come from experiencing lack, limiting beliefs and mind-sets, and any imbalances in your life ~ Joanne Walmsley
With regards to intention setting, this belongs to the lioness who has the strength, courage and confidence to roar when necessary. Should you ever feel the need, therefore, to finally step outside of your comfort zone and really go for what you want, then it is Archangel Ariel you need to call upon. She will genuinely help you to find that leap of faith within yourself to manifest those dreams and effectively work with the Universe to do so. How powerful is that?
If all the above was not enough, Ariel constantly radiates the Love of the Divine. Therefore, simply connecting with her is comforting enough but she also offers protection to those who need it, magic and healing, as well as Divine Love itself.
While Archangel Ariel can be called upon anywhere and anytime (just like all the other Angels and Archangels), you are more than likely to see, feel and hear her presence when outdoors.  However, wherever you may be when you choose to connect with her, here is a simple prayer that may be of assistance to you:
Oh Archangel Ariel, Almighty Servant of God, I call upon you this day to walk beside me, so that I can bask in your healing light and thus be of benefit to all the plants and animals that dwell upon Mother Earth. 
Also, please help me to heal any parts of my life that require healing and to remain connected with the source of Divine Love at all times.
Please assist me in shaking off any negativity, be that from other people or circumstances so that I can see the good in any given situation and thus bring about the best possible outcome.
Please help me to clear away any blocks to abundance in all its forms so that I don't have to worry about security, feel secure within myself and can provide my loved ones with all that they need.
Kindly show me the art of attracting abundance so that I am able to assist those in need and help create a healthy planet on which God's children can lead a wholesome life.
Finally, help me to live my life to its maximum potential and when my time comes to leave this Earth behind and return to God's Almighty Kingdom, that I leave it in a better place because of my visit.
Amen.

About The Author: Lucinda

Lucinda is a highly trained Intuitive and Empath, living in a beautiful village in North Yorkshire, England. She possesses the rare gift of understanding a client's personal pain and has been through many challenges, herself, which has only made her stronger! It is both her calling and her happiness to help those in need. And whenever she needs a little help herself, her Guides are always there to assist in her development and provide clear interpretations for her clients. Prediction has always been a great tool she could count on to accurately foretell events, but Lucinda also draws on her expertise with Dream Interpretation, Numerology, Angel Cards, Law of Attraction and Life Coaching to provide full and detailed solutions to any problem. A member of AMORC and Beyond Freedom Evolution, she provides inspiration, education and personal support for spiritual development. If you'd like answers or want to attract your desires, you can find Lucinda at PsychicAccess.com.